Stranger Tourist Exhibit Reframes the Ruins of a Childhood Friendship
Photographer Fares Zaitoon questions the role of a documentary photographer with this immersive exhibit at Darb 1718.
A space as intimate as a bedroom stands to witness, shape and become shaped by our journeys as individuals. With a bedroom as his stage, self-taught photographer Fares Zaitoon takes us deep into the heart of an intensely personal story with an immersive photo exhibition, bringing us to the very space where two childhood friends are caught in a spiral of drug abuse, separation and reunion.
The solo exhibition, titled 'Stranger Tourist', captures the tale of Zaitoon and his friend, Momo. While Zaitoon stands behind the lens, Momo himself is not the focus of the work - instead, his story is reframed by treating Momo's bedroom as the main subject, with allusions to their shared history of drug abuse littered throughout. While their friendship is the true subject of the exhibition, the photographer chose to bring his focus onto the physical space to respect Momo's privacy, and - more importantly - to challenge the power acquired by "anyone behind the camera," as Zaitoon puts it.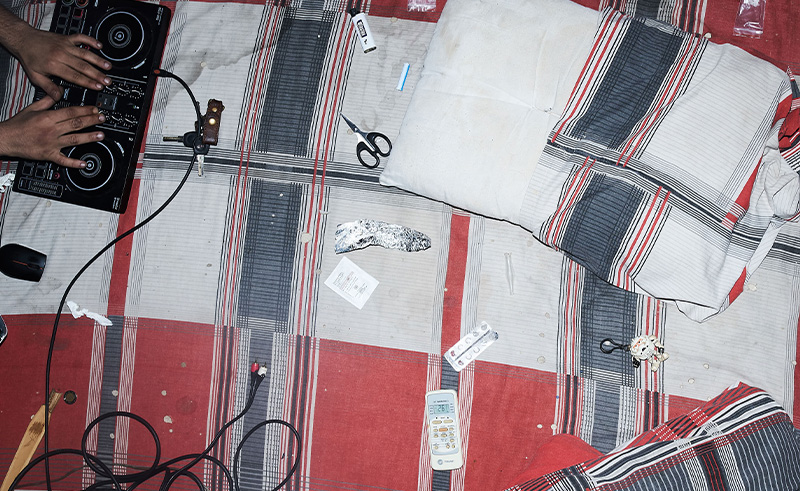 "I'm trying to step away from traditional documentary approaches and remove the power dynamic, which is where the idea of the room stems from. Homes have the power to evoke a feeling of shyness and suspend judgement," Zaitoon tells CairoScene. "This is not an exhibition, this is Momo's room. We're not there to pity Momo. We're there to experience his world. This room has been both a site for our friendship, Momo's art and music production, but it has also witnessed hardship."
Through the dichotomy of being a 'stranger tourist', the exhibition places visitors in a space that is inherently foreign to them, making them visitors or tourists in someone else's world. By elevating the bedroom as the centrepiece, the exhibition shifts their perspectives and with it their preconceived notions about drug use. Momo's room bears the physical marks of a tumultuous journey with drugs, with burnt and blood-stained bed sheets.
Zaitoon positions himself and his shared experience with drug use within Momo's world, redefining his role as a 'documentary photographer'. Employing a self-reflexive approach, he showcases the result of a journey that began by photographing Momo as a friend, not merely as a photographer. "Documentary photography is very limiting," Farida Youssef, who curated the exhibition, explains. "It assigns an 'eye' and a 'subject', but 'Stranger Tourist' is about Fares as much as it is about Momo."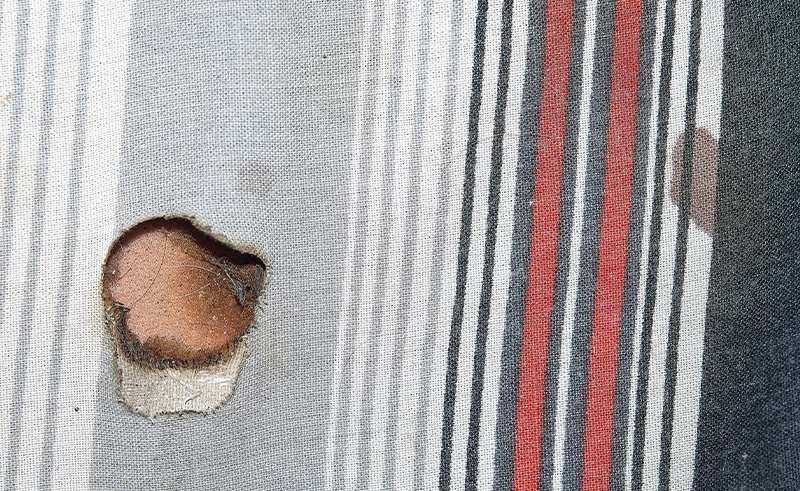 Throughout the entire process, Zaitoon emphasises their personal relationship, with Momo actively participating in its curation. The exhibition's dates were also chosen to coincide with the period when Zaitoon photographed Momo's room, bringing us even closer to not just the space but the time in which these images were captured.
The exhibition is open to the public at Darb 1718 Contemporary Art and Culture Center. On June 10th, Zaitoon and Youssef will host a talk at the exhibition to share more about their creative process with visitors starting at 6 PM.