Startups Galaxy & the Power of Growth Marketing in MENA's Ecosystem
StartupScene sits down with founder Nono Ghannam to find out more about how she's helping startups across MENA unlock their potential using the power of growth marketing.
There's an argument to be made that it's never been easier to be an entrepreneur, to launch a startup, to stake your claim for a piece of the pie that is the ever-evolving, ever-expanding local ecosystem. So you have that ingenious idea, that groundbreaking innovation - but what about going to market? What about acquiring customers? What about retaining those customers and bringing them back time and time again?
It might indeed be easier than ever to launch a startup, but it's harder than ever to succeed, in what has become an increasingly crowded and competitive market. Entrepreneurs love to talk tech, they love to discuss figures, but one crucial element of any successful business often falls by the wayside: marketing.
Marketing: The Missing Piece of MENA's Entrepreneurial Puzzle

Under the leadership of founder Nono Ghannam, Cairo-based Startups Galaxy has been working to fill a gap, helping startups scale-up through growth marketing - a brave move in an ecosystem that doesn't seem to value marketing all that much, despite the increasing savviness of increasingly discerning customers.
"The past year we were a large platform for everything - startups, spaces, finding marketers, finding investors, finding hiring talent," Nono tells StartupScene. "We did the whole 360 and we figured out two things: Firstly, growth is at the centre of everything. If you don't grow you can't really do anything. Secondly, we discovered that our Startups Galaxy community was full of talented marketers - so we decided to focus on those two points."
It was from this cross-section that Nono and co. propelled Startups Galaxy into an active and impactful supporter of startups looking to scale. How does it all work? Well it's all very simple, Startups Galaxy matches startups with an expert marketer, who will whip up a detailed and implementable plan in less than 24 hours. Promptness and speed aside, this service fills a gaping hole in many a startup or business plan: the lack of effective marketers. The challenges don't stop there, though; even with a marketer, managing them on a full-time basis and identifying and evolving the right strategy is another, while the implementation of said strategy is another mountain to climb.
What Exactly is 'Growth Marketing'?
Like much of the language through which we understand the ecosystem, it's not as complicated as it might seem. At a basic level, it takes the traditional marketing model, but elevates it by adding layers of experimentation - think everything from A/B testing and value-additive content creation, to creative ad copy and SEO optimisation. Ultimately, it's a data-driven approach that uses these 'experiments' to determine the best methods of optimising results with the most minimal possible expenditure of resources. It's a fast-play in a world that moves at break-neck speed, one that has yielded quite incredible results that are made up of quick wins.
"We've successfully helped dozens of startups grow across four continents," Nono says proudly and with a steely determination. "From SaaS and fintech, to ecommerce and mobile apps, we've also helped thousands of startups get free exposure through our platform and network."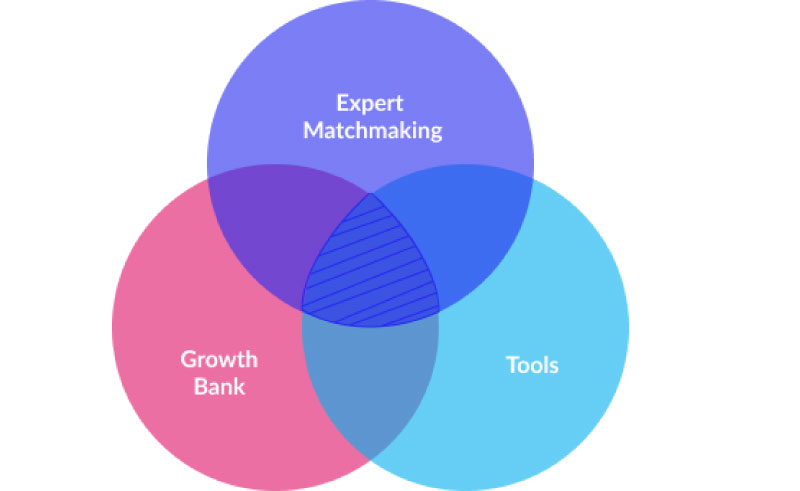 One of the key factors has been Startups Galaxy's use of tech to automate the process. "Growth is a combination of people, ideas and tools," Nono explains. "We give all three. From zero to a full plan, it's all automated in less than 24 hours." She goes onto explain that this is made possible through the platform's 'Growth Bank', hundreds of growth experiments and tasks, that they are able to generate personalised milestones in seconds through, based on each startup's industry, stage, funding size and user types.
That accounts for the tools and the ideas - but what about the 'people' part of the equation? "Each startup is unique," Nono tells us. "That's why we matchmake experts that best fit each one's specific milestones - from organic growth and paid acquisition, to conversion rate optimization and more," she continues.
It means that the startups in question needn't hire full-time growth marketers, with Nono stating that "our experts know what to do and don't wait for instructions." This, ultimately, is what makes Startups Galaxy rather unique. Think of the typical set-up at an agency - the 'expert' or 'senior' closing the deal with a client is rarely the one that works with them directly, traditionally overseeing a junior from afar. With Startups Galaxy, the person handling the account is the expert, the senior, is the person best equipped to take the client where they need to be.
Does it Work? The Proof is in the Pudding
It's a bold approach, but the proof is in the pudding and there are countless examples of how this unique approach has gone on to benefit many startups. One example is Gameball, a 500 Startups portfolio company and Shopify app that helps e-commerce businesses grow and retain customers through gamified loyalty schemes. After just six months, Startups Galaxy was able to develop a sophisticated content marketing strategy and optimise the startups SEO through its website and a blog - and the results were remarkable. The strategy achieved 4X increase in total organic clicks; 4.3X increase in total organic impressions; 3X increase in organic clicks for 'Shopify' searches; and a 5.6X increase in organic impressions for 'Shopify' searches.
Another success has come in the form Soovi, a re-commerce platform specialising in selling pre-owned electronics. Six months into partnering with Startups Galaxy, it was able to build a new B2C acquisition strategy and optimise an activation strategy that led to 2X increase in users; 2.3X increase in website sessions; and, most significantly, a 4X increase in revenue.
It's this impact that has led the Saudi-based Falak Investment Hub to invest $100,000 into Startups Galaxy to fuel expansion into the massive market that is KSA. It's these types of results that have made the platform an influential player in the ecosystem, an exciting prospect for any startup looking for more than just sustainable results - but startups looking for speed and impact in an increasingly fast-paced ecosystem that doesn't slow down for anyone.
Click here to learn more.