Byblos Tells a Love Story from Lebanon in Creamy Beirouti Hummus
The incantation of the ancient Lebanese citadel sings a fatteh-based hymn in Cairo's Four Seasons at Nile Plaza.
As is customary to the waning sun of late summer days, my August has, thus far, been filled with frustration. That, among varying overwhelming emotions ranging from insurmountable grief and good old post-work-day ravenousness, saw me take a long overdue stroll to the Four Seasons Hotel at Nile Plaza's ethnic crown jewel: Byblos. Having combed through many images of the space, I thought I would have a somewhat upstanding understanding of what I was in for.
Boy was I wrong.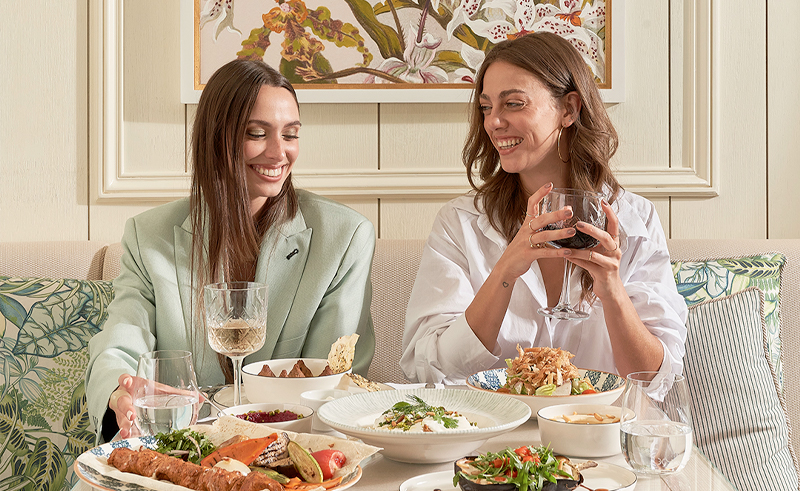 On our first encounter, Byblos enveloped me in a sage embrace where I was greeted by wafting herb aromas, fading sunset hues and the faint sound of children splashing around in the pool (did I mention it was poolside?). The experience of utter serenity was held in place by an overhead chestnut pergola, charming leather accents and texturally satisfying minimalistic pottery as dictated by renowned French interior designer Pierre-Yves Rochon. Making my way through tables of engrossed eaters, led by my surely eager-to-please waiter, I watched in awe as my scrambled 6 PM brain was wiped clean of its noisy tessellation by Byblos' unassuming sensory experience, and I began to believe in the magic of the Lebanese.
As I sat sifting through various fattehs and kibbehs on the menu that, I later learned, was meticulously engineered by Lebanese Head Chef Wassim Kairouz, I was graced by an appetising shot of mint guava in a Gatsby-esque glass that did its best to prepare me for what's to come. Then came the mezzehs.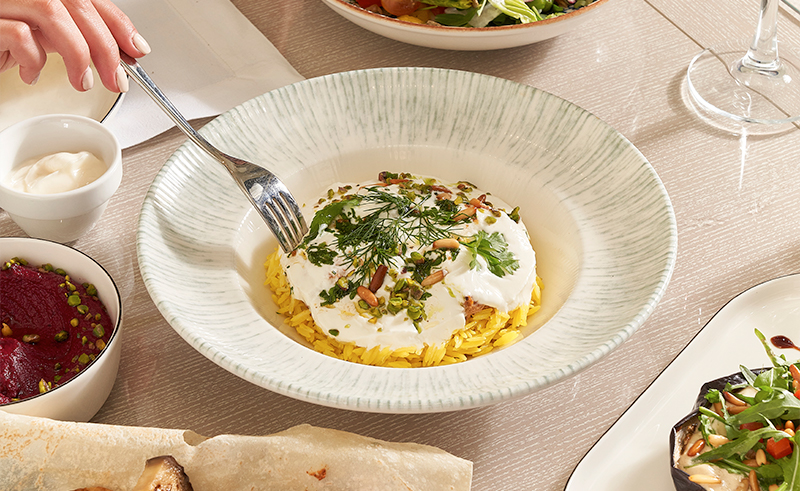 One by one, adorned mezzeh after the other graced my table and I could not help my appetite from expanding at walnut-topped muhammarahs, aromatic rahib eggplant, about a million hummus variations, grilled halloumi drizzled in molasses, and mint-infused vine leaves served cold. Now, it is only fair to warn you, my reader, that I am an appetiser girl, which means that, as helplessly as though it is genetic, I am much more content downing 3 appetiser plates than 1 main. On that front, Byblos challenged my self-control beyond anything I had ever experienced - how is one supposed to leave a plate of fresh hummus bellied with the perfect balance of minced meat unfinished? The answer, my friends, is certainly far beyond me.
As the sun set overhead and the distant pool splashing faded into nothingness, the nightlife of Byblos rose in ambient lighting and live oud. With that as my setting, I delved fork-first into my traditional Lebanese mix grill, a dish that bound together the familiarity of grilled delicacies, bedded of course by soaked saj bread, and the opulence of Byblos's dining experience in beautiful juxtaposition.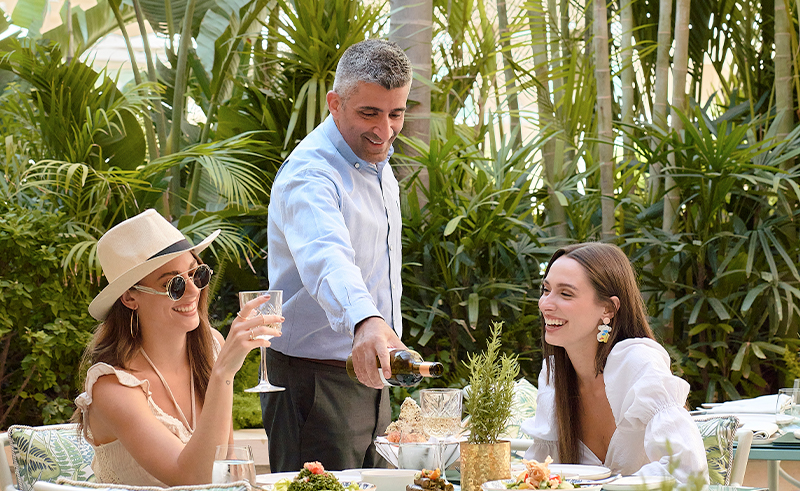 Alternating between that and yoghurt-entrenched kibbeh, that is, of course, stuffed with both onion and molasses, I was stuck in a whirlwind of smokey and subtly sweet flavour embedded in tender meats that simply swept me off my feet. An experience accentuated by the subtle embrace of supplementary white wine.
What struck me most noticeably about Byblos, besides the utter sumptuousness of everything I had wolfed down to that point, was how coherently it brought its manifesto to life: traditional Lebanese with a contemporary twist. Through centric aromas that caught their last breaths in novel ingredients, delicious dishes that brought to life the thrill of new flavour and even classic Arab tunes that sped up to contemporary and slowed back down.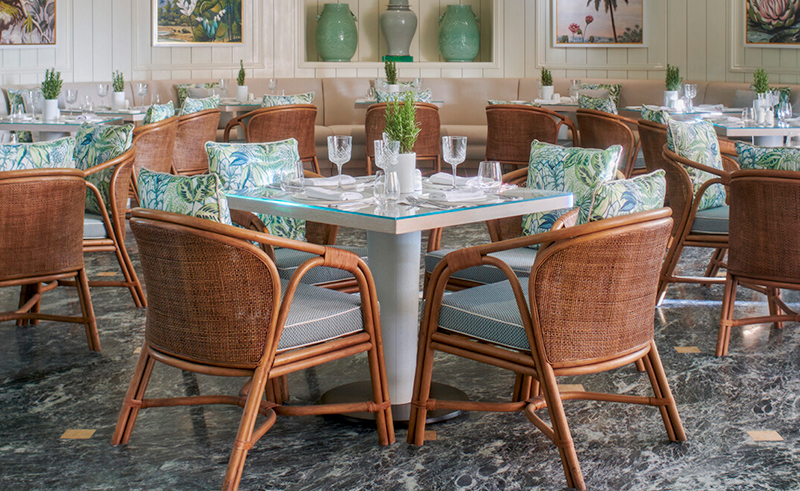 For dessert, Byblos took me on a journey of mastic creaminess and crunchy pistachio-infused kunafeh. Their baklava's, ice-cream filled without a doubt, honeyed flaky embrace enveloped me whole and whisked me away to a mythical land of classic Middle Eastern sweetness.
Eyes half open after a meal that could only be described as wholly fulfilling, I sat down with the mind behind the madness, Chef Wassim Kairouz, and was let in on the secret of Byblos's seamless fusion.
"We never want to alter the actual taste of traditional cuisine; when it comes to that, sticking to the roots of our culture is best. Instead, we change the presentation of the food. The world has changed; people now eat with their eyes first, and so in-fashion food tastes best."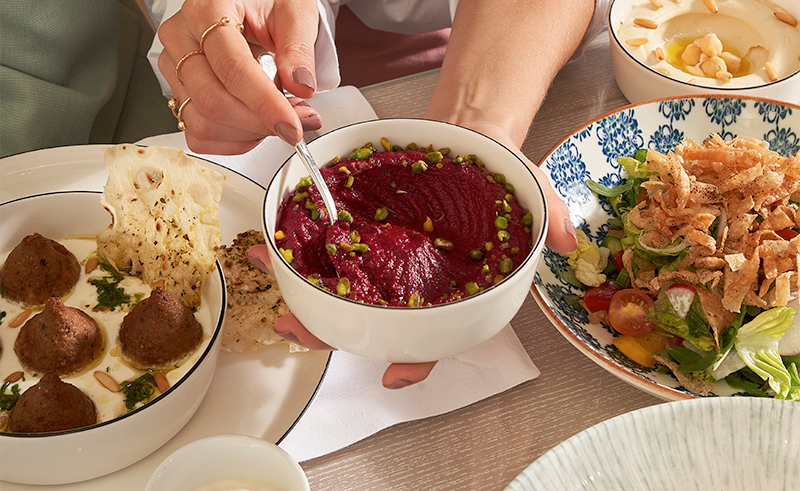 The story of Chef Wassim Kairouz is one that awakens a deep-rooted patriotism in our hearts and bellies. The chef grew up a food fanatic, constantly dipping into his childhood kitchen at every chance. Naturally, he could only go to culinary school, where he braved the waters of French and international cuisine, only to return to his Lebanese roots. Today, the chef's heart beats a Beirouti rhythm in Cairo's Byblos.