Cairo Foodie Couple Opened a Shawerma Restaurant on the North Coast
In a mouth-watering fusion of flavours, Shawermakis bridges both culinary sides of the Mediterranean at Sidi Abdelrahman's Kavala.
Swap your Tahini for some tzatziki, because this shawerma joint is unlike any you've tried. A certain culinary marriage has just taken place in Sidi Abdelrahman's Kavala in the North Coast. That said, Ms. Gyro Wrapenides has just tied the knot with Mr. Shaw Erma - and we're all invited to the afterparty in perpetuity.
In a culinary fusion that draws inspiration from the Mediterranean, Shawermakis - co-founded by Shahan Terzibashian, one half of the cherished Cairo Foodie Couple, in collaboration with Peter Tannous, Amir Latif, and Shady Barakat - expertly navigates the intricate realm of cultural amalgamation. The result is a tantalising array of succulent shawermas presented in the vibrant Greek style.
In addition to the customary beef and chicken shawarma wraps, enclosed in pita bread and brimming with crispy fries and velvety tzatziki sauce, Shawermakis introduces a novel and exhilarating twist with oven-baked shawarma variants carefully ensconced in tortillas and crowned with melted cheese. This inventive approach provides a delightful departure from the conventional wrap experience.
And when it comes to satiating our collective beachside sweet teeth, Shawermakis' desserts come in bite-sized pieces of heaven; from chocolate and caramel dipped loukoumades - don't google, it's Zalabia - to the aptly named Kunafa rolls, the Kunafakis.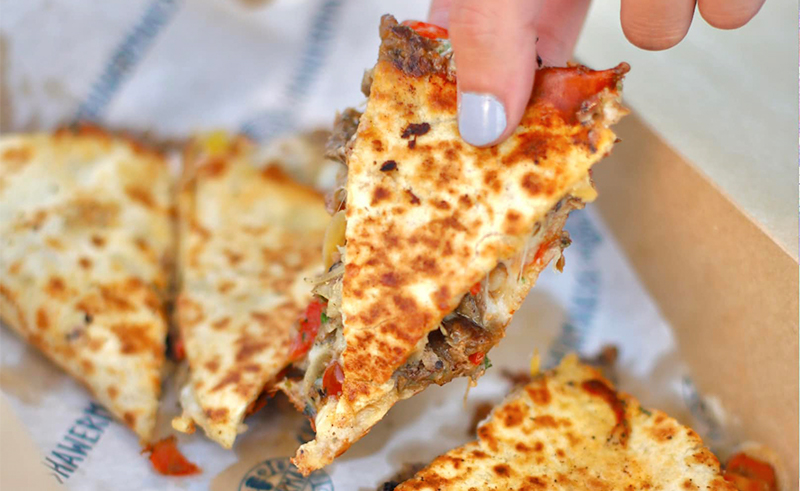 Founded following a fateful encounter at a wedding, Shawermakis came to be after a series of - very fortunate - events unfurled. "It's actually a funny story," Shawermakis co-founder Peter Tannous begins, during a virtual exchange with Scene Eats, "My catering company had been catering to a wedding in which our partner Shahan was in attendance, we had these shawerma sandwiches going around and Shahan would just pick them up one after the other - 13 sandwiches later and we were out, but Shahan definitely wasn't finished." Tannous shares.
Adding onto the story, co-founder Amir Latif shares: "Shahan just called me out of the blue when I was in Canada, I think it was around 3AM. Here I was thinking there was an emergency but Shahan just goes 'I just ate 13 shawermas and they were SO good! Let's start a shawerma joint.'"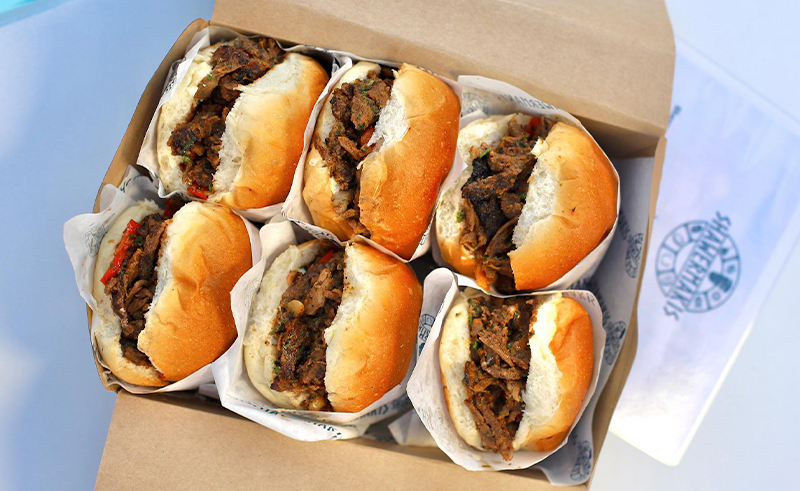 Having fallen in love with Tannous' shawerma, Shawermakis co-founder Shahan Terzibashian couldn't get enough "I finished half the skewer, and I'm not even exaggerating." co-founder Shahan Terzibashian shares with Scene Eats, "We've all known each other for such a long time, you see, and there's always been talk of having a business together or a sort of investment in general, and fate just played its game" Terzibashian adds, and so a shawarma venture was proposed, and the rest is history.
Originally meant to be a regular-shmegular shawerma joint, the North-Coast hotspot earned its white and blue Greek stripes when the name 'Shawermakis' was proposed, and thinking it sounded Greek, a lightbulb switched on, and the Greek-Egyptian fusion fare was born.
"Having Shawermakis in Sahel is basically having our family in Sahel. I like to believe that Shawermakis started long before that wedding Shawerma incident; it all started back in the day, we're all friends and family and we grew up with a shared love for food. So many of our memories and so much of our experiences can be traced back to our love for food, and I like to believe that Shawermakis is the culmination of that; an intersection of food and family," co-founder Shady Barakat shares.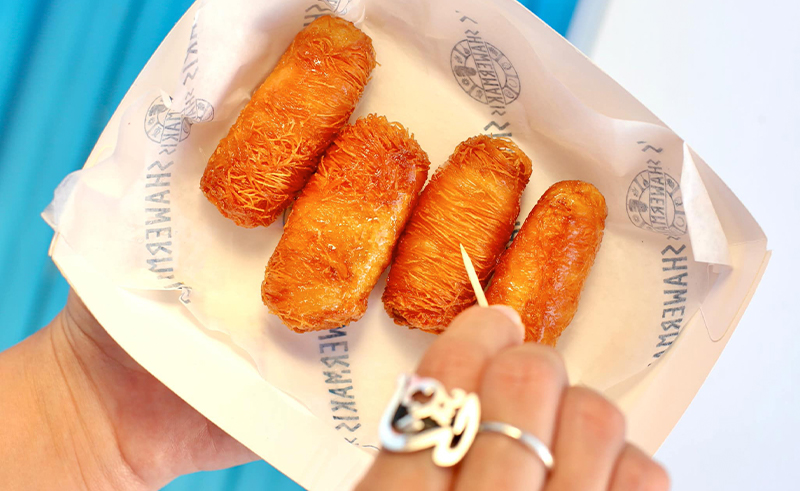 Shawermakis reveals the richness of Egyptian and Greek cuisine through shawermas reminiscent of traditional street food but elevated with quality ingredients and precise preparation. From appetisers to mains and desserts, the menu showcases the versatility of eastern Mediterranean cooking, blending ingredients, techniques and flavours in inspired yet authentic ways.
Now serving coastal gourmands in Sahel, Shawermakis is set to open a brand new branch in the heart of Heliopolis soon - and we can't wait to fill our tummies with their creations.