Heliopolis Says 'Marhaba' to New Palestinian Eatery Kufic
Ismalia Square now serves up a slice of Palestine and we have no choice but to stan.
A new restaurant showed up in Heliopolis on Ismailia Square announcing its arrival right in the sidewalk, where a tracery of Arabic script meaning "end the occupation" and a peace sign are imprinted in concrete. Above the street wall — a grid of windows that slides open in good weather — the restaurant's mission is written in swooshes of red, green and black spray paint: "Palestinian Homemade Food."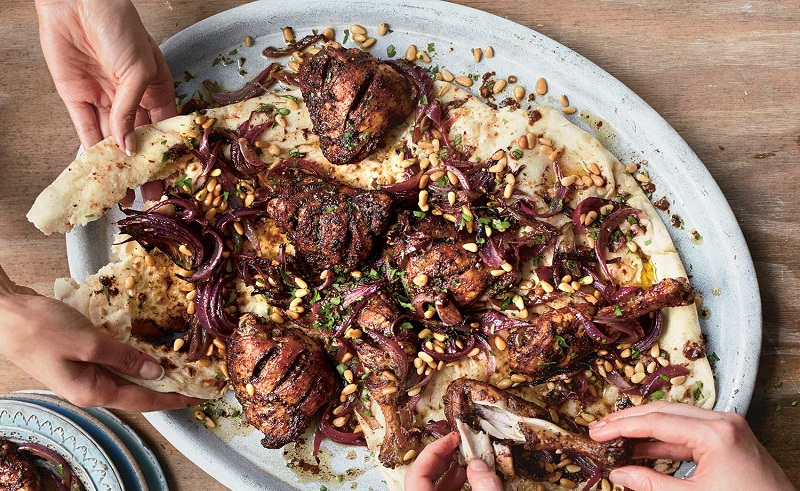 Roast chicken Palestinian-style from Kufic
That's exactly what Kufic is all about. The new Palestinian restaurants serves as a victory to Egypt's food scene because, quite honestly, we rarely have any joints that serves the iconic cuisine in this country. Upon entry, you'll see two slowly turning towers of meat, one chicken and the other beef, getting darker and more distractingly delish until an order comes in. You'll also stumble upon a saj griddle that cooks a crepe-thin flatbread that is essential to many Palestinian dishes. We mean, like, if there's no saj around, are we even having Palestinian food?
Kufic shines because of their rice dishes; you can get kabsa to awzi, mandi and even ma'louba (which is our absolute fav) where you can have 'em all with mixed grill or shawerma (we recommend both). The star of Kufic, however, is their mansaf. Saj makes the first layer of their mansaf, where it is sprinkled with cinnamon and cardamom and spread across the bottom of a glazed red-clay dish under an inch or so of yellow rice. Yum.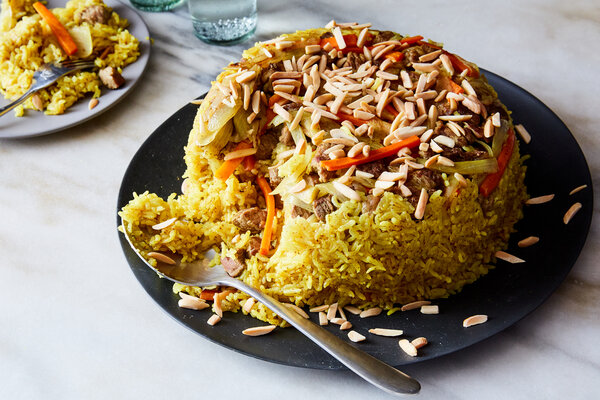 The ma'louba from Kufic
If you can't be bothered to leave your home, just bring Kufic to you by calling +2 0102 102 9762.