A Glimpse into Saudi Arabia's Burgeoning Heavy Metal Scene
Heavy metal proponents Jude Aldajani and Faisal Al-Alamy from 966 Records and Gigi Arabia from Heavy Arabia Entertainment in Saudi Arabia take us through the history of the KSA's metal scene.
The music industry in Saudi Arabia is thriving, and heavy metal is no exception. In light of the sweeping reforms which began in 2016 when the ban on public entertainment events was lifted, the country has experienced exponential economic, cultural and social growth. For musicians, this means the ability to make music, perform live, release songs on streaming platforms, and promote themselves publicly to their community and fanbase. While heavy metal is on the margins of popular or mass-consumed genres in Saudi Arabia, the musicians driving the scene are finding new pathways to continue pushing forward their music.
To fully appreciate the Saudi metal scene today, a quick overview of its history and significant moments becomes a necessary point of departure, which have come to be known as the golden era, the dormant period, and today's revivalist period. In our exploration of these pivotal periods, we've unearthed several artists who have shaped the metal community over the years, while examining the changes that have come about, and finally, the future possibilities for heavy metal in Saudi Arabia.
The Golden Era (Late 1990s-2009)
The late 90s and early 2000s is often referred to as the "golden era" because the metal community was at its strongest, at least in the underground scene. Social practices limited the ability to release music and perform publicly, but like other genres of music relegated to the underground, the Saudi metal scene found ways to make it work in a way that did not offend societal expectations. While social media and streaming platforms were still in their infancy stages and not very accessible, the Saudi metal scene was already forming its own online forums, such as 'sametal.org' (no longer in service) to create a distribution platform for metal-heads by metal-heads.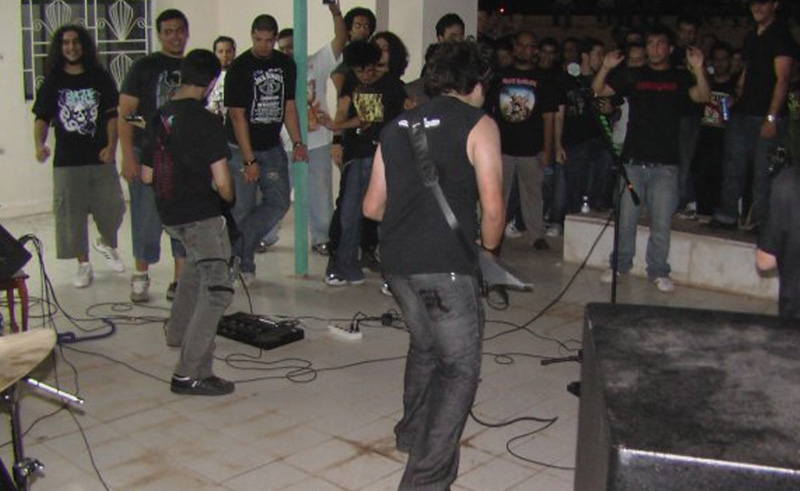 Pioneering bands such as Wasted Land (melodic metal), Immortal Pain (melodic death metal), Breeze of the Dying (deathcore), Octum (thrash metal), Creative Waste (grindcore) and Sound of Ruby (punk rock), were of the first in their respective metal sub-genres. Similar to many other genres of music in Saudi at the time, most shows were hosted in private residences, while being promoted by word of mouth and "free of charge." It was "plug and play" at its finest, in that the bands would show up with their limited gear at the time, and through little to no production and stage set ups, they would perform to an audience of about 50 to 100 people. By 2007, these gatherings grew substantially and occurred more frequently - Riyadh for example had its 'Clash of Irons' and Jeddah had its monthly 'Metal Nights'. Bands like Wasted Land and Breeze of the Dying caught the attention of international news outlets such as CNN and MTV, respectively.
For the Saudi metal community, however, it was all about the experience of watching a local band play "live", being able to talk to like-minded individuals about similar tastes in music, impromptu jam sessions, and finding a space or community. It was these experiences that created the metal scene that exists today.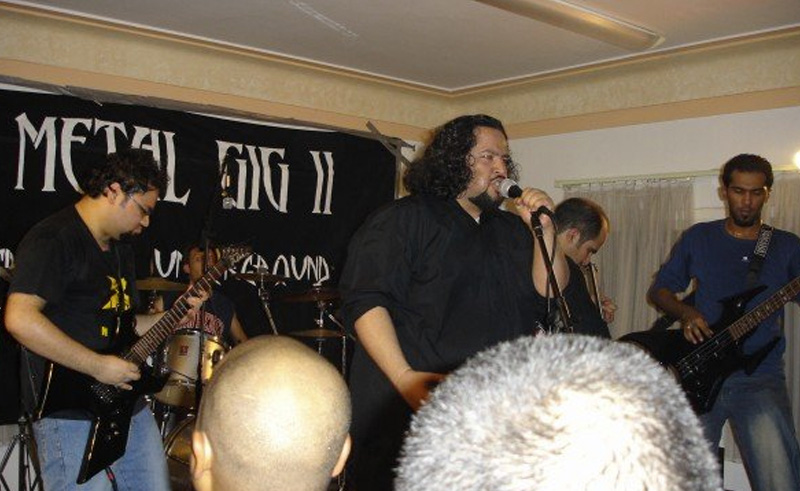 The Dormant Period (2010-2016)
Things took a turn in late 2009 when two promoters officially advertised the first metal concert in Saudi Arabia on social media platforms, and sold tickets at a premium price. The police came, and the organisers were arrested, and much like in Egypt at the time, the mainstream local media outlets portrayed this incident as a gathering of "devil worshipers," which quickly became widespread public opinion.
As a result, the Saudi metal scene came to a grinding halt and while some local bands found refuge abroad, metal in Saudi Arabia was again relegated to the secrecy of the underground and out of the public eye for the foreseeable future.
The Revivalist Period (2016-Present Day)
With the establishment of governmental bodies such as the General Entertainment Authority in 2016, the music industry found legitimacy and began to grow exponentially. In the context of heavy metal, many bands came out of hiding, and instead of facing punishment, they were welcomed.
The first publicly held heavy metal show occurred in 2019, with Creative Waste as headliners, and it was a milestone moment. The message that this event sent to the metal community was significant: the times of persecution for performing music publicly, was officially over.
Today, there are over 30 bands in Saudi Arabia who identify hard rock or heavy metal as their main genre, and they are spread out across three key provinces: the Western Province (e.g. Jeddah), the Central Province (Riyadh), and the Eastern Province (e.g. Dammam).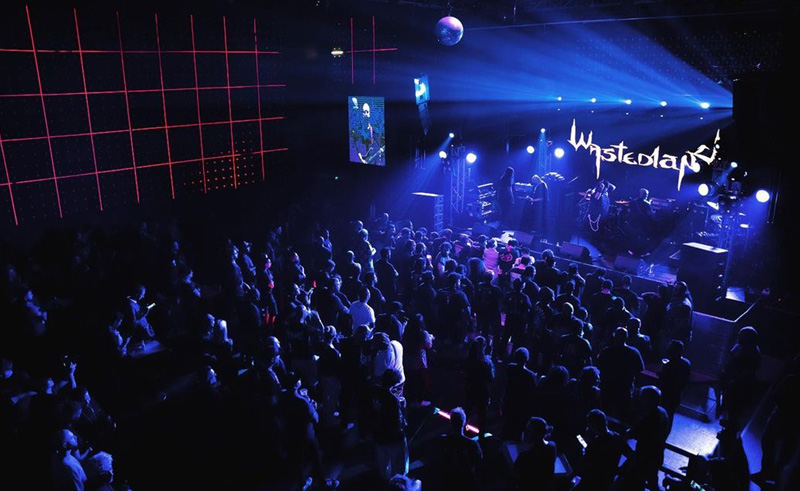 In Jeddah, bands from the 'golden era' like Wasted Land and Immortal Pain continue to grow. Wasted Land recently released a music video titled 'Dark Passenger', which fuses melodic and folk metal elements, and contains a dynamic vocal performance, intense blast beats, and a plush outro. Immortal Pain recently headlined ComiCon, becoming one of the first groups to perform heavy metal at a large public event. In addition, newer artists such as 9Six6, featuring members from Octum and Breeze of the Dying, released their first single, Wj3, with lyrics in both Arabic and English, lavish choruses, and intense breakdowns. They released their first music video on March 2, 2023, 'Noob', featuring Saudi rap artist SKR Star. The song contains epic riffs backed with an orchestra, and rap in both English and Arabic.
Riyadh has experienced the most growth in terms of newer bands, chiefly Entropia, a melodic death metal band formed in 2022. Their recent EP 'Unhealable Scars' contains a host of playing styles, from ethereal cleans to melodic lead melodies.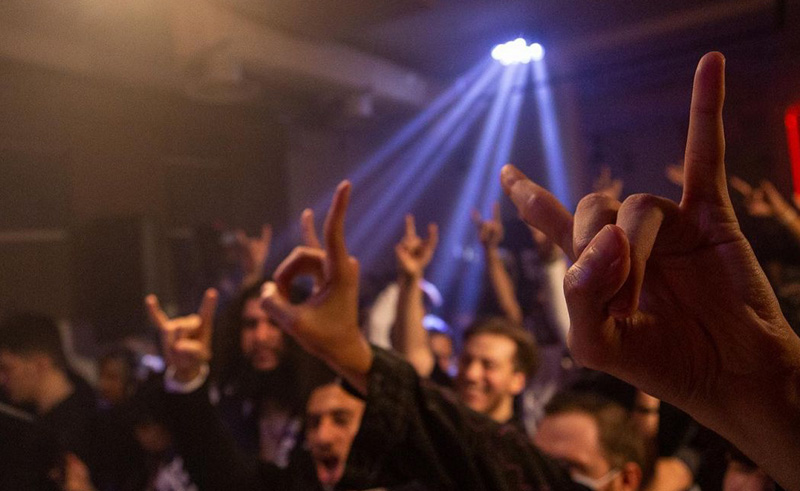 Meanwhile, Trip Loon, a classic rock band, recently held their first live gig in Riyadh, which was jam-packed full of avid listeners of all genres. They plan to release their first single in the coming months. Furthermore, Dune, a thrash metal band, recently released their single 'Refuge', which is a straightforward thrash-banger with clear influences by Megadeth, Testament, Pantera and Death. Dusk, a modern metal one man band, recently released an album containing 12 tracks with various guest artists.
In the Eastern Province, bands like Sound of Ruby and Creative Waste continue to dominate the scene. Creative Waste released their second album 'Condemned' in 2020, and it is the very definition of classical grindcore music. The drumming is flawless and provides the necessary glue for songs in this genre to stand out. Sound of Ruby recently headlined the Syrup Lounge in Riyadh. Meanwhile, newer bands like Ostoraton released 'Rehla', an album with ten songs containing catchy melodic death metal riffs and choruses.
What does the future look like?
In addition to providing local talent the ability to grow, the reforms also provided a path for other businesses in the entertainment industry to thrive, which in turn provided better support systems and exposure for heavy metal artists. In 2021, Heavy Arabia was created as the first and only promotion company dedicated to heavy metal in Saudi Arabia, which specialises in promoting, organising and producing heavy metal shows and workshops in the region. It has facilitated workshops with international artists and top-chart metal producers such as Jaani Peuhi (Swallow the Sun, Lord of the Lost, Mercury Circle) and Asim Searah (Wintersun, The Circle, Damnation Plan). It has organised and hosted several live shows both locally and internationally, showcasing the artistic talents available in the Kingdom and drawing hundreds of local and regional metal-heads.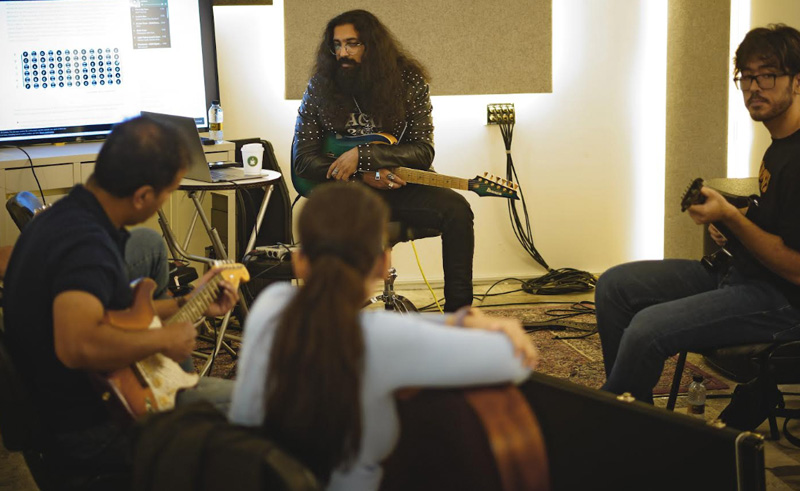 Meanwhile, Steel Shout, a podcast/YouTube channel dedicated to heavy metal in the Middle East (particularly Saudi), launched in May 2020. The channel features interviews with various artists from the local scene, reviews of recent releases, and general discussions on the state of heavy metal in the Arab world. Just last year, 966 Records was launched with an exclusive focus on genres that don't fit traditional mainstream frameworks to offer artists a suite of services ranging from project management, to mixing and mastering services.
Another impactful, KSA-based label, Wall of Sound (Dark Mode) has artists such as Immortal Pain under its roster and provides artists with recording, performance, and distribution services. Wall of Sound has also been pushing the entire rock spectrum forward, traveling across the rock spectrum with bands like Statues of Sinking Men, and Egypt's Dirty Backseat. Furthermore, Trip Loon band leader Talal Ashehail also continues to push forward the hard rock scene, with his Riyadh-based company Capital Entertainment. The company is a development house for film and music content for Saudi Arabian artists, and rock n roll dedicated promotions and events.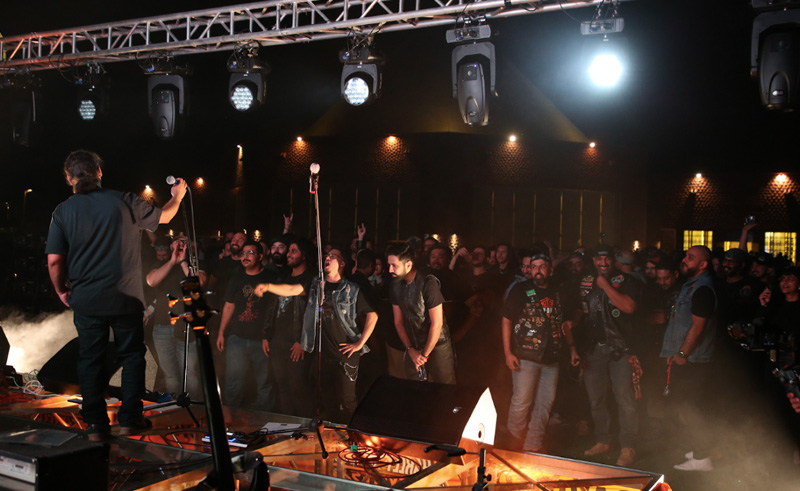 Live venues are still a work in progress. So far, only a few venues cater to the metal scene, although not exclusively. While the presence of music venues is a good first step, there is room for growth. Most of the venues available are mediocre in terms of the quality of sound systems and live mixing capabilities. Having said that, it is only a matter of time before this area is appropriately developed. Looking at the progress that's happened in recent years, heavy metal in Saudi Arabia is headed in a meaningful direction as artists now have the ability and support systems available for creative expression.