Artist Spotlight: Alewya
The rising star celebrates ancestry, feminine power and Arabic-African sounds in her music.
Alewya, meaning 'the highest' in Amharic, is an exceptionally talented singer-songwriter, producer and multidisciplinary artist based in West London. She burst onto the music scene in London with her debut single 'Sweating' in 2020 and is set to open her tour around Europe this February with her latest EP 'Panther in Mode' and single 'Let Go.'
Born in Saudi Arabia to an Egyptian father and Ethiopian mother, Alewya's sound is imbued with the Arabic and African sounds of her childhood. Whilst the SWANA region has seen a flourishing of artists in the diaspora channelling their heritage through music, rarely do you come across musical fusions that feel as raw and instinctive as Alewya's. As she successfully expands her reach outward from the UK capital to Europe, it remains to be seen whether Alewya's next milestone is to set her sights on Egypt, Ethiopia and the wider region.
Alewya's sonic expression is driven by a certain genre dexterity, spanning Afro-swing, tribal house, nu-metal and electropop, making for recommended listening for fans of Kelela or Greentea Peng. Her sound is an amalgamation of the diverse sounds of her childhood, such as the Ethiopian tunes her mum would play and recitations of the Quran that her dad would listen to; she consequently enjoys playing Arabic scales on the guitar.
London's melting pot of cultures also contributed to her sound: she has revealed that she draws musical inspiration from her Afro-Caribbean friends and the local Moroccan community. Other notable influences include the composer Nicolas Jaar and jungle music legend Shy FX, the latter actually agreeing to become her manager after a fortuitous encounter at a party in London.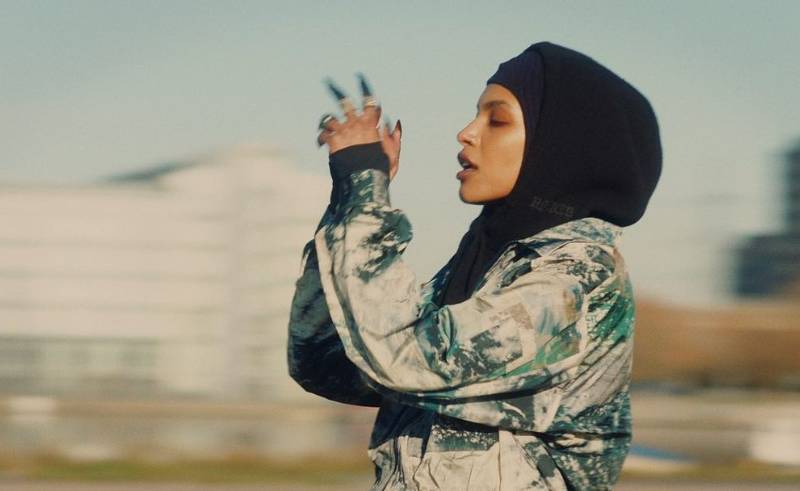 Alewya's repertoire brings to mind Fela Kuti's famous words, "music is a spiritual thing; don't play with it." Each track pulsates fierce feminine energy - she has described her sound as "wild, real, tribal" and often encourages listeners to connect to each other and one's ancestry. This rising star's discography traces her spiritual and personal reckoning with her identity, accomplished through an authenticity and poise that avoids cliché and commands our attention.
Her breakthrough in the music scene was a feature on Mercury-prize-winning Little Simz's track, 'Where's My Lighter' in 2020, whereafter she was emboldened to release her debut single. 'Sweating' is a sexy Afro-swing piece with breathy vocals, a club hit that shot her to fame despite the immense challenges faced by music artists during the pandemic.
'The Code' ensued the following year in 2021 with renowned jazz drummer Moses Boyd. Diverting from the tongue-in-cheek confidence of her previous party track, Alewya's presence over these slower, grunge instrumentals is quietly introspective: "I was lost and found my truth." Over the years, Alewya has spoken about how music began as an "escape" for her in a time of personal struggle before it came to offer her guidance and purpose. In the song, she calls to "the Ethio-Egyptian inside of me/ and all this dark you are just so ashamed to feel."
If 'The Code' bore witness to Alewya's first encounter with her ancestry, her successive 2022 release 'Jagna' was an explosive manifestation of the artist's surfacing, injecting UK drum & bass with a primal energy that would come to accentuate and enrich her future music productions.
'Jagna' translates as 'warrior' or 'fighter' in Amharic, reflecting the artist's hunt for clarity (indeed, her chorus is formed of the repeated lyric, "Show me light") and transcendence, on which she has said, "Jagna is polarity. Jagna is release, Jagna is my soul, Jagna is my rage, Jagna is my lesson, my desperation, frustration, my surrender, my vulnerability." Conjuring her vital force for this track didn't go amiss in the music industry, she was invited to perform this track as a headline act at the world-famous Glastonbury Festival on the BBC Introducing Stage in 2022. Furthermore, it was selected for the FIFA Official 23 Soundtrack, alongside international stars like Rosalía, FKA Twigs and Nas.
From listening to her first EP 'Panther in Mode', it is remarkably clear that Alewya's more recent sound forefronts the 'Jagna' she came to find and connect with through her music. A favourite of mine on the album is 'Ethiopia' for its coalescence of power, sensuality and vulnerability in lyrics like "savage by force I soft in flow," and later, "they vulnerable and on fire." The chorus features lyrics in Amharic, which her mum helped her to write, "zebdew kebru-lenya," translating to"the crown and glory is ours," asserting pride and love for her Ethiopian identity in the face of the Western world and media that pays little tribute to this vibrant culture.
A flute melody threads itself through the work, produced by Shy FX, and incorporates both Arabic and Ethiopian musical scales (which are often mistakenly conflated as the same). Coincidentally, the track was released during a period of instability in the Tigray region of Ethiopia, adding a political dimension to the track and its messages of unity and strength.
The singer-songwriter is also a skilled multidisciplinary artist, and this dexterity across artistic mediums allows for a layered representation of her heritage. Her body is adorned with traditional Ethiopian Niksat tattoos, whilst her music videos are overlaid with drawings of feminine Ethiopian figures that she designed herself that contributed to her visual art series entitled 'Sweating.' Moreover, she often takes the reins on the creative vision of her music videos; for example, in the video of dance track 'Zuggy', we are offered an infernal dance performance by movement artist Kikz Katika.
Meanwhile, Alewya has done important work in bringing the sounds of Cairo to London listeners. In her BBC Radio6 Mix entitled 'Ethiogypt', she takes her UK listeners on a journey down the Nile, beginning in Egypt with 'Ya Azif El-Awtar' by the acclaimed Al Tanbura ensemble. As Alewya's music continues to evolve, mature and expand from the UK capital to Europe, we are left wondering whether the rising star's trajectory continues eastward to gigs in Ethiopia and indeed Cairo.
Alewya's tour begins February 22nd and tickets for some shows are still available here.