Artist Spotlight: Layal, The Egyptian Singer on Honing Self-Confidence
In an interview with SceneNoise, Layal speaks on embracing self-hype, stylistic versatility, and the struggles of creating music amid the UK's economic crisis.
Nubian tapestry draped on the wall, a glass bowl ornament propped up by ceramic octopus tentacles, some books on Tarot, and a vinyl record of Greentea Peng's 'Manmade'. These are some of the first details that meet the eye when stepping into Layal's apartment in Shoreditch, East London. And chairs – lots and lots of miniature chairs.
"They're not actually made for sitting. Sorry! Everyone always asks though," says Layal. From listening to the twelve warm and soulful singles she's released so far, the interior of Layal's home more or less matches what I'd envisaged. The 27-year-old Egyptian-born singer describes her sound to me as "mellow and eclectic at the same time, some alternative soul… Just, like, mystical."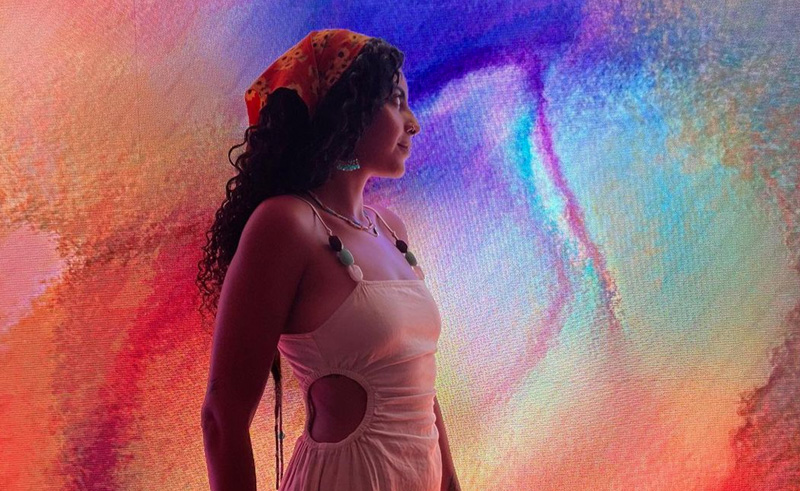 As she puts together her debut EP, however, she assures me we're in for a blend of genres. "I respect artists who are like chameleons, you know, offer you different things. I used to think I needed to stick to a certain genre to build a brand, but seeing other artists diversifying their sounds has made me less guilty about not pandering to what people want."
That much holds true: Layal's latest track of the year 'This State' is a full-bodied meditation on honing confidence and self-belief as an artist, pouring slick vocals over a languid urban jazz instrumental à la Jorja Smith or Cleo Sol. The track was inspired by the boastful lyrics she was hearing from rappers back in Cairo, she shares. Here, she's veering off-track from earlier releases like 'Roots of Desire', which incorporate her voice onto jungle basslines in a way that's more reminiscent of Nia Archives.
Her versatile tastes were nurtured intentionally, she shares. "When I moved to Leeds from Cairo in 2014, I made sure I listened to as many genres as I could. Uni in the UK was a musical experience where I was exposed to all sorts of genres, from techno to reggae, dub, rock and funk legends like Nirvana and the Red Hot Chili Peppers." And then taking to London, she explains, was a hugely formative step in her journey as an artist.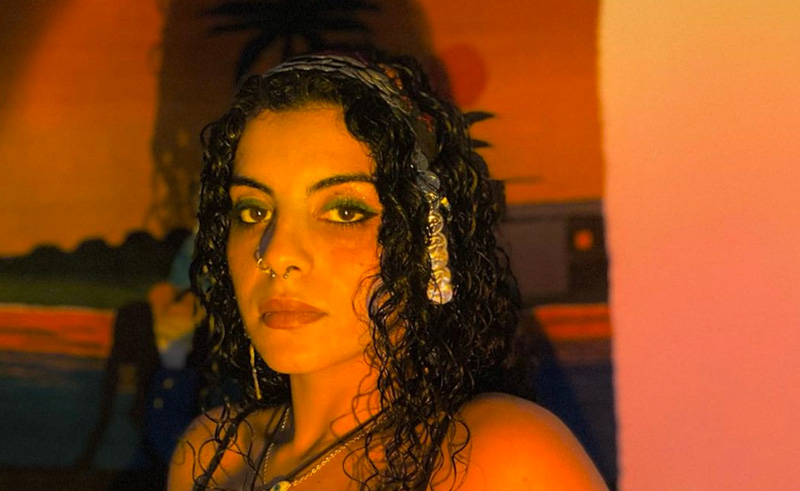 "I feel like when I arrived in London, it's like the city sensed I was here. I was at a bar in Camden and when they found out I could sing, they got me up on stage and introduced me as 'Layal, a singer who's come all the way from Egypt.' That's when I started taking my career as a music artist seriously. Before then, even though I had a dream to sing and never pictured myself doing anything else, I wasn't taking practical steps to make that a reality."
Time away from home has given her the space to think and experience things that feed her creative expression. "I grew up in Mohandeseen, and I see my audience as mainly being in Cairo and the Middle East, but London gave me an artistic identity," she reflects. "In Egypt I was sometimes misunderstood. My parents were open-minded, but from others I'd be left second-guessing why I was chill about things that they were quick to judge. I've now realised that so many people live outside of the little 'box' I'd grown up in."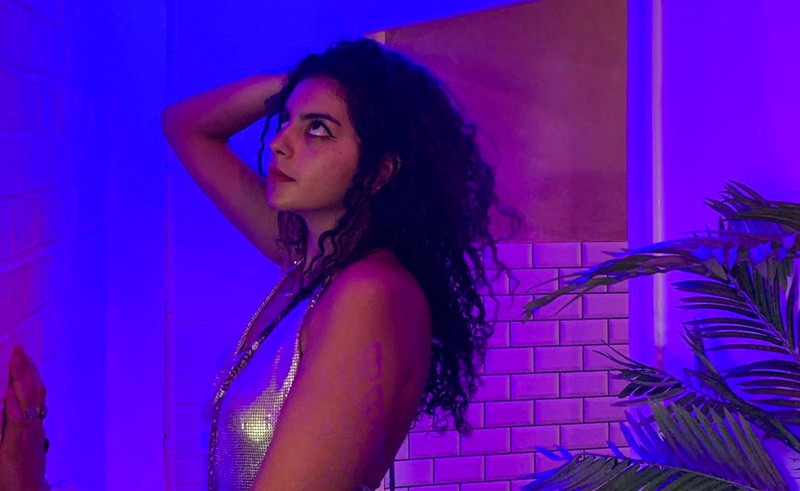 For Layal, music is a mouthpiece for highlighting important social issues. Her 2022 release 'Temporary Highs' was influenced by Egypt's #MeToo movement and the rise of debates that hoped to wrest women from the grip of male judgement. "Too many guys in Egypt will tell you that they're 'open-minded' with a beer in their hand, but they'll still limit you from saying what you really feel, wearing what you want." An empowered chorus reels off the words: 'Shame on you, 'cus you're picking out my roots, and you're trying to change me too, please keep your eyes on your own food' – the last line being inspired by the Arabic idiom كل مما امامك مباشرة , she explains.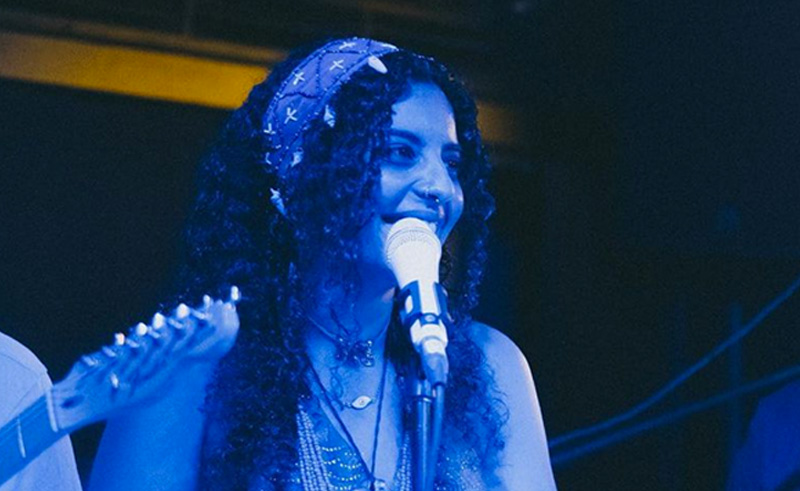 Her 2023 release 'Madina', meanwhile, tackles another major contemporary struggle that many in her position face in London. With a spiralling cost of living crisis in the UK, and a recent study revealing that a third of young people are taking on additional jobs to make ends meet, the creative process distorts into an ungratifying slog. "Having to juggle another job that's technically your 'main' work means that I can hardly keep up with scheduling in studio time, and then, I don't have time to think through creative ideas or plan ahead… and it seems like all artists and creatives are in the same boat right now," she shares. "'Madina' was about saying we're tired!"
You get a sense of this unease when listening to the track, with undulating notes in the refrain mirroring the repetitive daily grind she speaks of. In Arabic, she sings cathartically: "Ya madina lafetina w tawehtina rayha bina ala fein / Nazeltina w talaatina w ehna ma redina." She's speaking to the big city, translating from Arabic as, "You've spun us around, driven us crazy, thrown all sorts of obstacles in our way – where are you taking us?"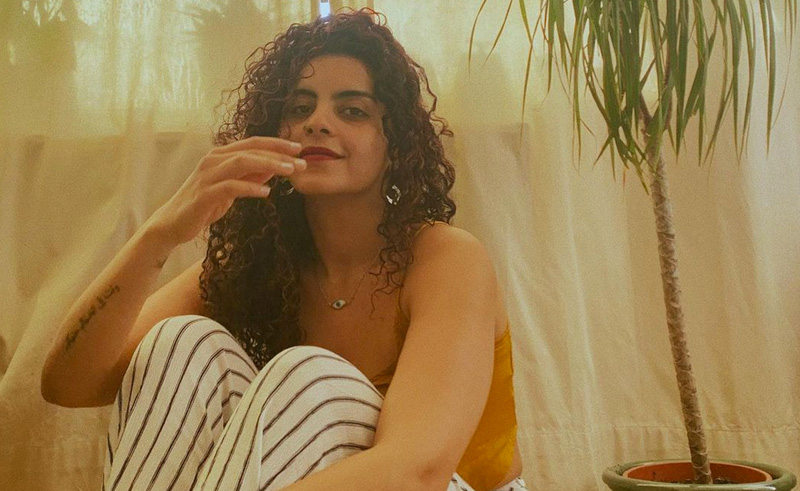 I ask Layal if there's a thought process behind her blends of Arabic and English lyrics, or whether it's just intuitive. "I'm seeing the rise of young Arab music artists around the world, which makes it a really cool time for me to be making music. But I like singing in both languages, and I'm not trying to force any Arabic into my music if it's only to follow a trend," she replies with a gentle smile. "If it comes, it comes. I've started reaching out to more Arab artists in London though, because there's a growing community here that I want to feel a part of and get that sense of mutual understanding."
With Ramadan offering artists space for pause and more 'behind-the-scenes' artistic work, I ask Layal what her intentions are for the remainder of this year. "I'd like a band to play with and tour around with! I played at Cairo Jazz last year with Marmalade Jam, the band of my friend [Ibrahim] Tolba, and it was the least nervous I've ever been on stage because it really felt like we were putting on a show as a team."
"And of course, I'll be putting out my first EP soon. I want to host a listening party for it, with goodie bags of incense, crystals and all things Layal!"