Mansoura-based Artist El Mokh Drops New Lofi/Shaabi Album 'El Magzar'
The album unfolds in two distinct halves, each capturing a unique facet of El Mokh's journey.
Ahmed Mokhles aka El Mokh, a music producer hailing from Al Magzar in Mansoura, Egypt, has recently unveiled his debut album, 'El Magyar'. This album seamlessly fuses influences ranging from Lofi and Shaabi to Mahraganat and hip-hop, comprising seven tracks thoughtfully divided into two distinct halves.
In the first half, El Mokh pays homage to the tranquil essence of Mansoura. '3yl Soghir' kicks off with gentle Lofi beats, delicate piano melodies, and rhythmic elements, setting the stage for '7y El Ashgar', where resonating keys create an ethereal atmosphere. 'El Masaken' immerses the audience in a percussion-infused electronic soundscape, while the eponymous title track, 'El Magzar', takes an exhilarating turn into a grungy, thunderous techno realm.
"I evolved from a timid child, battling with speech impairment and social anxiety, into a soul who sought solace and refuge," El Mokh tells SceneNoise. "Embracing my inner world, I found comfort and nurtured my imagination."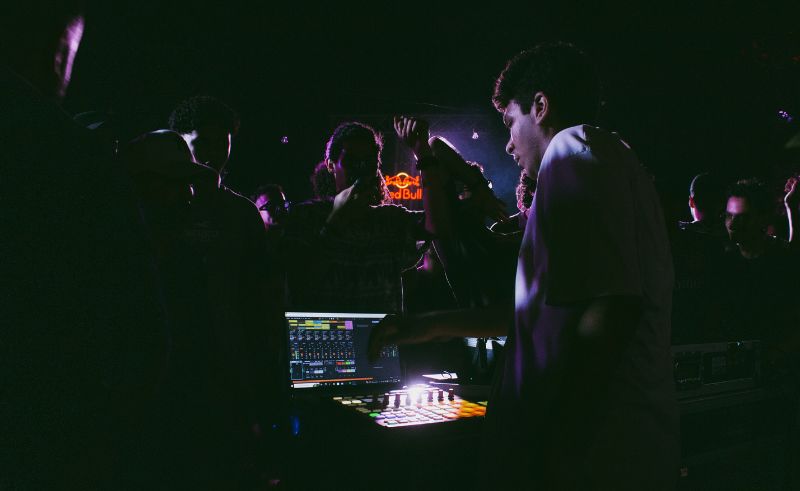 The second half ventures into the gritty urban landscape. 'Matawy' delivers intense rhythms and robust instrumentation, effectively capturing the urgency of El Mokh's surroundings, while '3yoon' skillfully merges techno elements with haunting finger cymbals, evoking a sense of apprehension. "I used to hang out with a group of people who carried pocket knives," El Mokh shares, hinting at the parts of his past that inspired these tracks. "I had one too, but when I lost it, I didn't feel as rebellious as I used to."
The album reaches its zenith with 'EL KAFR', a collaboration with trap artist and music producer DimmyDee, blending vocals, synths, and darbuka drums to craft a psychedelic-infused Shaabi masterpiece. "I used to live two lives, putting on a tough front for everyone while showing my true self only to those I trusted," El Mokh says. "With my closest companions, including DimmyDee, I was able to share my genuine feelings and express myself without any reservations."
Curated by Jaled, the album's artwork visually encapsulates its contrasting themes, while - under the guidance of manager Kareem El Bazz - the collaboration serves as a shining example of El Mokh's innovative approach. Further enhancing the album experience, Visualizers by Abdelbassr and 3D models by Reami Hendi provide deeper insights into Mansoura's struggles and triumphs.