PREMIERE: Ko Shin Moon, Samah and El Khateeb Remake 'Mily Ya Ghossoun'
A mellifluous cover for Elias Rahbani's repertoire which was sung by none other than legendary singer Fairuz.
A tight schedule, gasoline shortages, and musicians meeting for the first time – this was the series of unprecedented events that gave life to a beautiful performance. A cover of a cover of a lesser known song, but one planted firmly in music history nevertheless.
The performance was captured at the Grand Sofar Hotel, which once hosted icons such as Om Kulthoum, Farid al-Atrash, and Asmahan. There, French psychedelic/space funk duo Ko Shin Moon gave us a stellar impromptu performance of 'Mily Ya Ghossoun,' composed by Lebanese musician, composer, songwriter, and orchestra conductor Elias Rahbani.
The song was once performed by legendary Lebanese singer Fairuz. In collaboration with musicians they met on the road (Ahmad El Khateeb and Samah Boulmona of the Metro Al Madina collective), Ko Shin Moon offered their own rendition in a breathtaking location. The filmed performance has now been shared with the public in partnership with their resident music family, Radio Alhara.
Ko Shin Moon's Axel Moon and Niko Shin first came across a cover for 'Mily Ya Ghossoun' on a vinyl created by legendary buzuq player Mohamed Matar. In awe of the track, they decided to create their own electronic version, utilizing samplers, drum machines, and synthesizers for that modern twist. Created during quarantine, their version came without lyrics nor acoustic instruments – this is where Ahmed and Samah came in.
The French duo happened to be in Beirut for the Comic Art Festival and were eager to collaborate with local Lebanese artists. Lebanese-singer Sandy Shamoun introduced the pair to Samah and Ahmed. After some conversation, including mention of Ko Shin Moon's 'Mily Ya Ghossoun' cover, the meeting seemed to be fated. These Lebanese musicians, with their Arabic musical training, could provide the very flavour Alex and Niko's cover of the track was missing.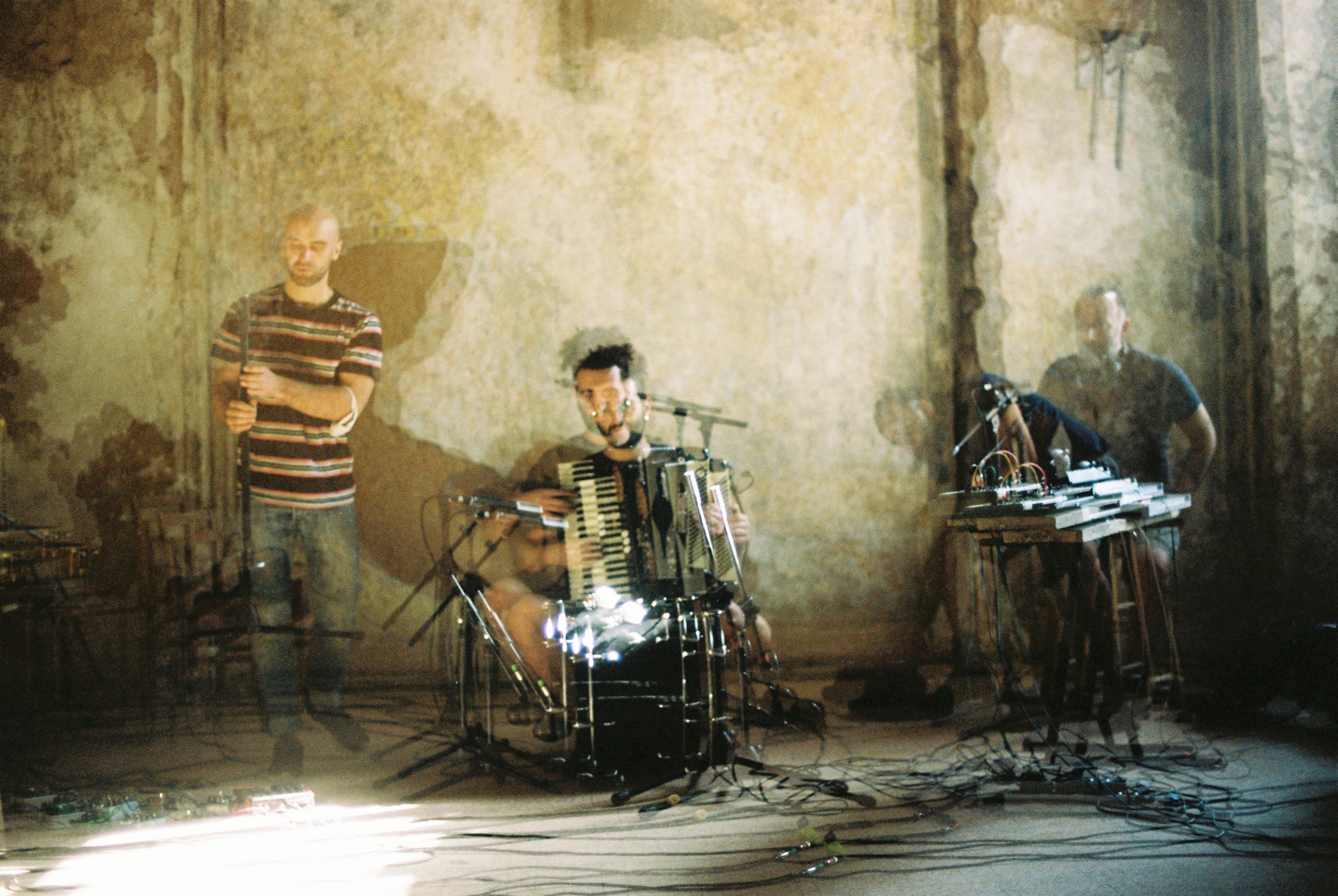 The same day they met, they discussed the plan for this video. Director and cinematographer Gabriel Haddad was in charge of production and hunting for a shooting location, eventually finding the perfect spot at the Grand Sofar Hotel. Due to the economic and political factors at the time, Lebanon was not the easiest place to film. With electricity cuts being the norm, Sameh had to call in favors to borrow a generator and gasoline.
Less than a week after their meeting, the group, along with Gabriel and recording engineer Florian Tirot, rose with the sun to shoot the performance. Though they were working on a remake of their cover, Ko Shin Moon gave Sameh and Ahmed the space and freedom to contribute considerable input.
They went back and forth during the shoot, feeding off each other's energy and figuring out the music direction, jamming until something materialized. They even had two hours to spare for any extra shoots or edits.
The end result? A folk-laventine fusion with a hint of neo-psychedelia, courtesy of Niko with his stack of synths, including an analog synth and a sampler. Axel provided the Levantine feel with his talent on the electric saz. Ahmad El Khateeb was in charge of rhythms and groove with the rek, with Samah on the accordion, drums, and dulcet vocals. Beirut's OneHertz Studio rented out their equipment to the group for support.
This is just one project out of many to come, with both groups planning on having more improvised performances, that brings out the best from all of the musicians involved.