Sound and Stage: Inside Amman's Bustling Underground Live Music Scene
SceneNoise contributor Yasmeen Altaji speaks to the music venue pioneers and globally practiced performers about the underground music scene at the heart of Amman's evolving culture.
Listen to the full audio report below
The walls stand adorned with framed print copies of Ziad Rahbani's album covers, a quote by Paolo Coelho on the essence of wine drinking, and photos of past acts that have graced the small woven-rug covered stage. As daylight fades and evening approaches, patrons trickle into the cleanly decorated space, beelining for the bar, settling into staple appetizers or finding seats near the gleaming drum kit waiting for the night's act to take its reins.
But the real charm of Maestro Bar and Restaurant, tucked in the heart of Amman, is its sound.
"The music is the core of the culture," Saad Darwzeh, the joint's founder of Maestro, told SceneNoise. "Music is the language for communication between people."
Nestled in a residential neighborhood, the joint is one of several up-and-coming live music venues in Amman, components of the city's rapidly growing underground live music scene. It's a Monday night in Amman's happening Jabal Luweibdeh, also called Weibdeh, the buzzing hipster-central home to dense populations of expats and locals alike.
At Maestro, Monday means a jam session.
"If you stay, you'll see 30 or 40 musicians from all over," Darwazeh said.
It's an electric relay of performers sneaking on and off stage, creating a sound behemoth in its mass but delicately artistic in its form. For just about three hours, the music continues without interruption, the ensemble shifting seamlessly from a six-piece avant-gardist improv troupe to a settled small band elegantly delivering songbook classics.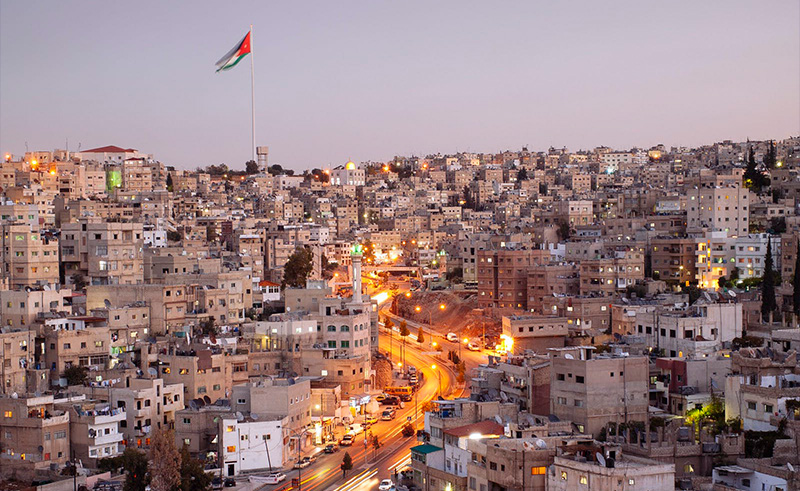 In a bustling city, a musical escape
Jordan's densely populated capital is home to an estimated 4.6 million. In 2020, Amman made up nearly half of the country's population, according to Jordan's Department of Statistics. And in a city where seemingly every hilltop block is packed with restaurants and coffee shops, these venues serve as oases.
"We do oriental, we do jazz," Darwazeh said. "We have a dedicated jazz band. It's our house band."
Tonight's session glitters with spunky keys-led improvisations, robust saxophone solos and familiar tunes like Brazilian standard 'The Girl From Ipanema' and Santana's 'Oye Como Va'.
"Sometimes, you get stares like, 'What the heck is going on?' But we always have people's attention. Always," said Omar Farouki, tonight's jam session head. According to Darwazeh, Farouki is the leader of Maestro's house jazz band — although the latter doesn't quite like to characterize himself that way.
"That's rough," Farouki told SceneNoise, laughing. "I don't like to call myself the leader. In music it's such a collaborative effort that I don't think that it would even be possible to do what I'm doing without the people that I'm with. In my eyes, we're all leaders."
Introduced to the piano by his grandmother, Farouki began classical training at a young age. Growing up in the US, he became enamored with jazz and went on to study the greats of the genre — Ornette Colemen and Anthony Braxton, he named — and its evolution.
When he moved to Amman about three years ago, he wanted to share the rich African American music tradition — something he regards as an expressive form with its own musical language — with listeners here.
"It's a mission for me to get people to recognize a sound," Farouki said. "If I'm playing a cover, I tell them where they can find it, so they can go back to the source material and listen and learn and love it."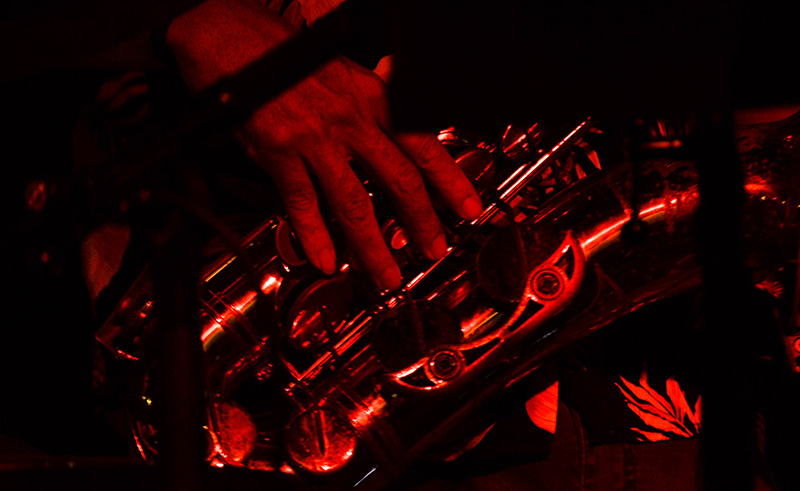 Growth of a landmark
Since its opening in 2015, Maestro has hosted nearly 300 jam nights led by 60 different musicians. And including Friday concerts and other weekly events, that Monday's jam night was the 613th live music event at the space.
"I think Amman is moving gradually to a better place in music," Darwazeh said.
But Maestro is not the only one in the business of Amman's nightlife. In Jabal Amman, The Corners Pub, a lively bar attached to a boutique hotel, hosts its own slough of entertainment and attentively curious patrons.
"Oh, my God, Amman's music scene is growing," said Mais Sahli, the waitress-turned-manager, hobbyist music producer, and founding owner behind Corners, which celebrated its 10th anniversary last December. "It's growing massively."
According to Sahli, Corners was one of the first music venues of its kind in Amman. After years of carefully programming artists and curating events like stand-up comedy shows and open mic nights, where patrons are free to sign up to perform themselves, Corners earned its place as a destination for live music.
"It became this local hub where most musicians come either to go to open mic, play with everybody else, or to have their first shows to test out their materials," she said.
In just over ten years, Corners has hosted artists from across the Middle East, including Palestine, Lebanon and Egypt. "It's been great," Sahli said. "We've had people from all around."
After pandemic-era silence, new sound in Amman
Despite their early successes, these venues faced the blanket challenge of the COVID-19 pandemic and lockdowns that shuttered live events.
"What happened was that during COVID, the music scene had a big strike," Darwazeh said. "Things went backward substantially… A lot of musicians went out of the scene because they did not have any income during COVID."
The pandemic's impact on the music industry transcended genres and production methods. According to a report from the Nashville Chamber of Commerce analyzing trends among music venues and musicians in the city, 74% of musicians said they had experienced unemployment since March 2020 and saw their annual income plunge by $10,000 to below $36,000 a year.
The impact was felt globally.
"It was like a year and a half of nothing," Farouki said. "Then some very elite parties. It was masked, with social distancing."
But those periods of isolation were an opportunity for many indie artists to reach online audiences — and emerge in person once restrictions were lifted, according to Sahli.
"I think with COVID and social media and everybody going online, we've discovered so many artists that I think we didn't even know existed before," she said. "Now, anyone has access through social media to be able to showcase your talents."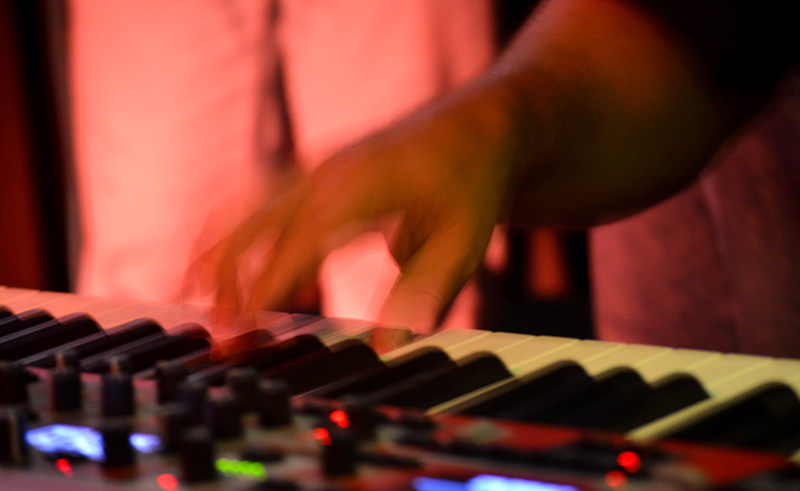 For musicians and venues, hopes for a promising future
It seems no matter who you ask, the consensus remains that Amman's music scene is here to stay.
For Darwazeh, venues are part of the foundation of that permanence.
"In order to enhance the music scene in Jordan, you have to provide the musicians with three main things: an audience, a stage to play and financial support," Darwazeh said. "This is what will make the music scene flourish."
Sahli says the music and musicians themselves — indie or signed — need to find their audience.
"Whether you like it or not, this music cannot be only in a niche and cannot be only for a certain social circle or certain age demographic," Sahli said. "You need to give it a chance to actually be heard."
She says support from local radio stations and interest from larger venues could push the independent section of the industry forward with notable momentum.
For Farouki, the key is in the community.
"There's so much wonderful talent here that it won't take long for there to really be a scene here," he said. "If we are lucky to retain the people that we have on the scene, it is a bright future indeed."
And wherever you look, you'll see support from its most vital source:
"If you see around the place we have, we have pictures for all the musicians who led the jam nights," Darwazeh said. "They are the real people who built this place. They are the real pillars."