Syrian/German Duo Shkoon Release Long-Awaited Live Album 'FIRAQ'
On an album blending arabesque melodics, ambient textures, and downtempo beats, much of the strongest moments skew toward the Syrian/German duo's sentimental side in a whopping run time of 90 minutes.
For Syrian-German duo Shkoon, changing the face of underground music in the Arab world wasn't the plan, but one cannot deny the influence of their fusions of orientalism and downtempo. Ever since Ameen and Thorben got together in 2015, the duo have been on a conquest to introduce these coalescent sounds globally given their contemporary take on the genre, inspiring an entire generation of producers in bringing together the arabesque sounds with Western production methods. Most recently, the pair have released their long awaited live album 'FIRAQ', a hypnotic piece of work compassing a latitude of textures, tonalities, and rhythms - an unofficial sequel to 'Rima', their debut album.
'Rima' was released in 2019 marking a pivotal moment in their career which kick-started their worldwide album tour, where they performed sold out shows across Cairo, London, Beirut, Paris, Berlin, and Hamburg. Ameen's refugee status was a hurdle in their world tour though, but the electric duo stayed resilient to their passion with full dedication, which makes the tour all-even better. Shkoon are self-proclaimed as "gravitating to Syrian folklore when devising their lyrics in Arabic and opting for western-rooted electronic music for the format."
Released via MDLBEAST Records' subsidiary label WTR, which specialized in arabesque organic, electronic music - FIRAQ embraces 15 tracks that run across an adventurous hour and a half, boasting a combination of fresh singles as well as reinvigorated live expositions of Invertigo, Ala Moj Al Bahr, Letters, Sin, Just a Sec, 33.9 Million Miles and Forgotten Stories, singles previously released but with a twist of flavors. 'FIRAQ', which translates to 'split' or 'division', came to be named so after the death of a close family member to the band.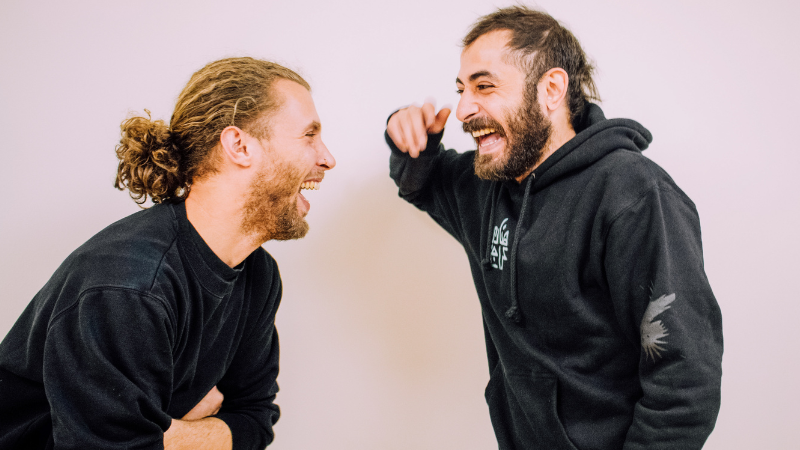 Ushering the live renditions, Shkoon has also re-interpreted some deeply-adored reinterpretations of classic Arab hits, such with Nazem Al Ghazali's Iraqi classic Fog Al Nakhal in 'Mulajia', El Helwa Di by Sayed Darwish in 'QQQ', and famous Arabic folklore song Digi Digi Ya Rababa in title track 'FIRAQ', with original productions in 'Refraction', 'Madlen', 'Laayounak', and 'Mohammed'.
Regarding the album, Shkoon has stated "FIRAQ is an album that's incredibly close to our hearts and a project that took on a great deal of poignancy following a death in the family. A huge amount of raw emotion and angst went into the recording of the album and it is an experience that will stay with us both forever. Adding to this, the artwork for the release is taken from some old drawings from the deceased that have been adapted and modernized by our very talented friend and designer, Hadeer Omar."
Shkoon's sonic originality and ethereal music direction is what acknowledges them as a powerhouse among Middle East's electronica scene, bringing together the best of both worlds between traditional Arabic music and modern production methods of club culture. Their impromptu live performances are a breeze of fresh air, usually kicking off with an ambient-heavy act and closing off with thumpy bangers.