The Cairo Improv Orchestra: Dismantling Music-Making Conventions
Palestinian oudist Huda Asfour and Italian artist Valentina Ciniglio defy convention with Egypt's first improvisational electroacoustic orchestra.
Amidst the sweltering heat of Downtown Cairo, I stepped inside Studio TakhshĪna, a space for independent artists that the Goethe Institute opened in December 2020. The cacophony of summer traffic died away as the doors shut behind me, but instead of silence, I was entranced by the distant sounds of fluctuating notes seeping out of a warmly-lit room. It was there that I was able to meet a musical group - the first of its kind in Egypt - that promised to create new sounds through little else but vibe and flow: The Cairo Improv Orchestra.
Open to the public, The Cairo Improv Orchestra invites multidisciplinary musicians to gather twice a month with no plans and no intentions. Just bring your acoustic or electronic instrument, or even just your voice, and join in the structured chaos of the moment. Here, musicians improvise, create and revel in their shared creation, whatever that may be. Even I was tempted to pick up an instrument and contribute to the grand amalgamation forming before me.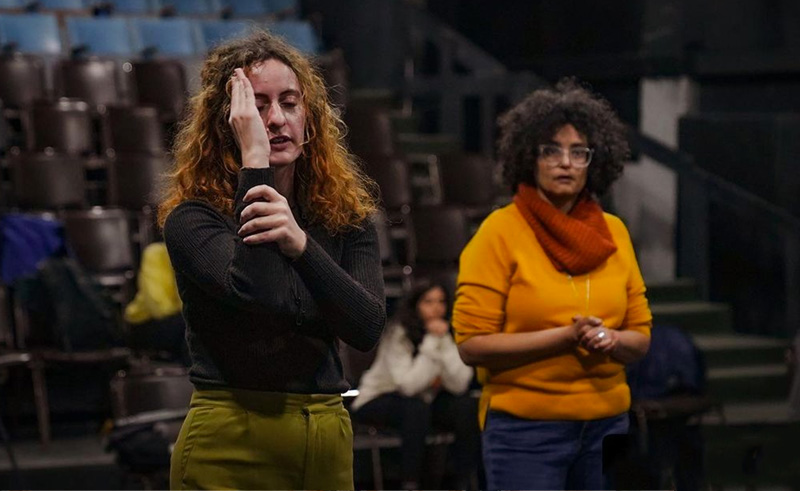 Considered the first improvisational electroacoustic orchestra in Egypt, The Cairo Improv Orchestra was founded in February 2023 during a workshop organised by Palestinian singer, songwriter and oudist Huda Asfour, alongside Italian multi-instrumentalist Valentina Ciniglio. The workshop focused on conducted improvisation for electroacoustic ensembles, which represented a multidisciplinary approach that the two artists wholeheartedly embraced.
While the word orchestra often signals rigidity and formality, Asfour and Ciniglio managed to initiate a space that challenges this notion. Asfour herself proudly admits that, even as a teacher, she herself still found herself learning new things about conducted improvisation. Drawing from Asfour's extensive experience in classical Arab music and Ciniglio's knowledge of the conduction protocol of gestures utilised by the Italian OEOAS orchestra, the workshop taught participants about the language of conducted improvisation, where specific signs suggest vague 'behaviours' to musicians, without enforcing pitch, length, melody or harmony.
"It's very important for us to have a horizontal leadership model," Ciniglio told me. "Huda and I weren't looking to create an orchestra. We wanted to share a process and a language, and hopefully inspire similar projects."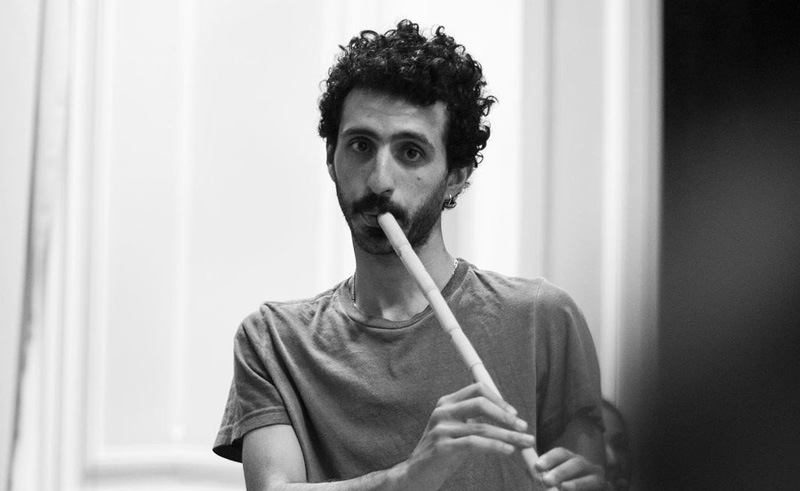 Ciniglio's interest in an informal hierarchy went beyond the confines of the orchestra's studio. Even as the group spoke to me about their personal journeys with the project, Ciniglio made sure to keep her distance, giving the performers space to share their own thoughts and feelings.
"We're usually a group of 30 musicians trying to find a sound together. It's a chance at exploring new sounds and opportunities, a band for example was born out of the orchestra," Abdo Zin Eldin, one of the members of the orchestra at the session, told me. "As someone who's passionate about sound in all its forms, it's important for me to have a space where I'm not confined within my own taste, a space where I'm challenged."
Much like many of the orchestra members I spoke to, Zin Eldin was reluctant to define his musical approach, a reflection of the orchestra's collective agreement to step away from convention.
"The orchestra is basically a nursery for young musicians, it's a new creative playground," Osama Magdy, another member of the group, said. "You get to escape your comfort zone, both sonically and socially."
Challenging traditional notions of what an 'orchestra' is and blurring the boundaries between acoustic and electronic musicians, the orchestra ventures into uncharted territory, opening up new creative possibilities for collective improvised music-making. "The idea of being able to create composition on the spot with a group through a system of gestures is a whole different world, it's a new way of thinking about how you're making music," Asfour added. "I have always been an improviser in my heart. I played with all kinds of instruments, genres and people."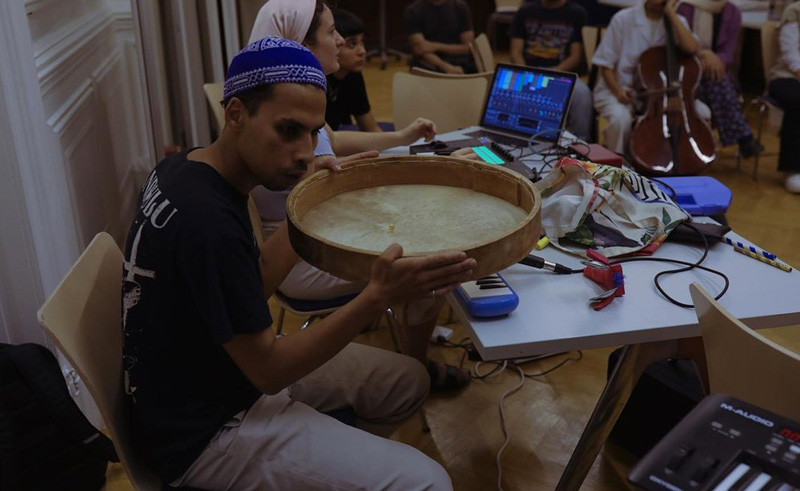 Asfour however has found relief in the ability to communicate while improvising with others. Not necessarily as a dictation or instruction, but rather as a way to subtly explore spontaneous inspiration collectively. With a belief in the communal nature of the project, Asfour and Ciniglio believe there is no solid aim or end goal to their work; the whole will be defined entirely by the whims of its parts.
The collective plans on producing a booklet soon, as well as a series of videos explaining the language in order to give future improvisers the chance to learn about it before joining their sessions.