17 Breezy Terraces for Summer Dining in Egypt
Delicious food and stunning views guaranteed.
As the sun slowly descends beyond the horizon, casting a subtle medley of colours across the sky, and a gentle summer breeze begins to stir, there's nothing quite as delightful as dining alfresco in the cool evening air. From the coastal city of Alexandria to the scenic shores of the Red Sea and the tranquil banks of the Nile, Egypt boasts a myriad of restaurants with inviting terraces, providing a welcome escape from the sweltering heat.
Whether you're yearning to savour a delectable meal amidst the breathtaking views of the Mediterranean, indulge in fresh seafood as the gentle sea breeze kisses your skin, or enjoy a serene and intimate dinner at a hidden gem in Cairo after a long day of work, these 17 restaurants with breezy terraces offer a cool and invigorating dining experience that's simply perfect for the summer season.
Sachi
Park St, Sheikh Zayed, Giza
Sachi's expansive alfresco terrace offers guests sweeping city views, creating a memorable atmosphere perfect for enjoying succulent Mediterranean plates and refreshing cocktails on a hot summer day.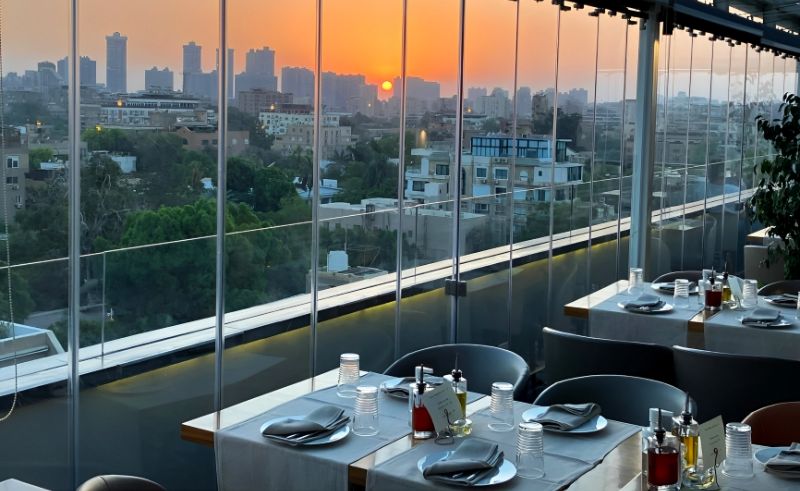 Estro
Royal Maadi Hotel 9th Floor, Maadi, Cairo
Located in the heart of Maadi, this Sicilian rooftop comes with plenty of breeze and offers a sleek and modern ambiance perfect for a night out with friends complete with fresh, bold, and authentic Italian cuisine.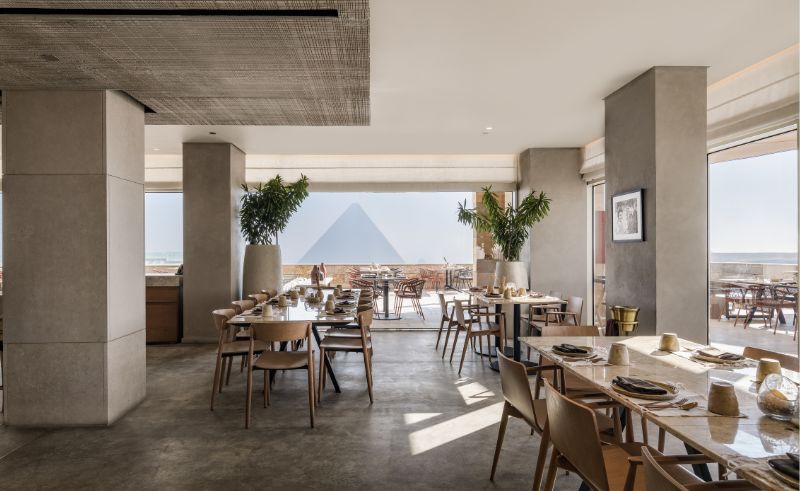 Khufu's
The Great Pyramids of Giza, Giza
Khufu's promises not only one of the most incredible menus in the Middle East, a daring refinement of Egyptian cuisine, but also iconic views of the pyramids. The popular restaurant's meticulous culinary practices and masterful hospitality are perfect for a summer respite.
Villa Coconut
Downtown, El Gouna, Red Sea
Nestled in Downtown El Gouna, Villa Coconut is an enchanting upscale eatery that exudes the charm of a boho chic daydream. With its relaxed yet luxurious ambiance, the restaurant's terrace extends gracefully towards the sea, inviting guests to savour a truly captivating seaside dining experience that embodies the essence of coastal bliss in the Red Sea governorate.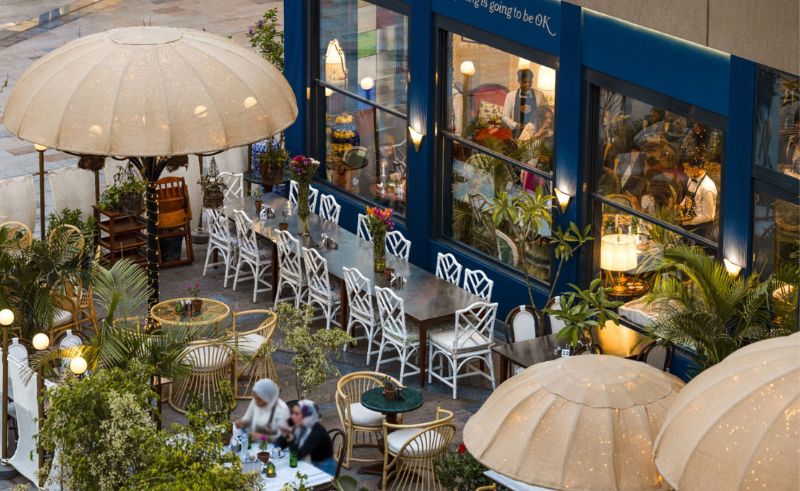 Cafeteria Granita
All Saints Cathedral, Zamalek, Cairo
Nestled inside the All Saints Cathedral, Granita is the perfect escape right in the heart of Zamalek. With their lush green outdoor terrace, subtle lights, and nightly performances, you'll forget you're in Cairo.
Lucida
Hacienda Red, North Coast
Perched elegantly on Egypt's North Coast, Lucida boasts a stunning terrace that offers uninterrupted views of the azure waters, inviting guests to indulge in a picturesque dining experience embraced by the tranquil coastal ambiance.
Moods Restaurant and Beach Club
Abu Tig Marina, Gouna, Red Sea
Overlooking the Red Sea in Gouna, Moods' relaxed ambiance is complemented by a commitment to providing an exciting blend of Mediterranean and international cuisine with a killer view.
Kazoku
Swan Lake, New Cairo, Cairo
Since its inception, Kazoku has been a staple fine dining hotspot, and its terrace designed to be a beautiful oasis, where diners are enveloped by lush greenery, and delectable cuisine, live music, and breathtaking sunset vistas coalesce, offering an indelible sensory escape in the heart of New Cairo.
KIKI's Beach Bar
Hacienda White, North Coast
Nestled along Egypt's glittering North Coast, KIKI's Beach Bar is a renowned destination that has drawn people from far and wide, attracting a discerning clientele of celebrities, busines moguls, and influencers. With its stunning beachfront location, sensational live performances, and exquisite culinary offerings, KIKI's Beach Bar has delivered an exceptional experience since its opening.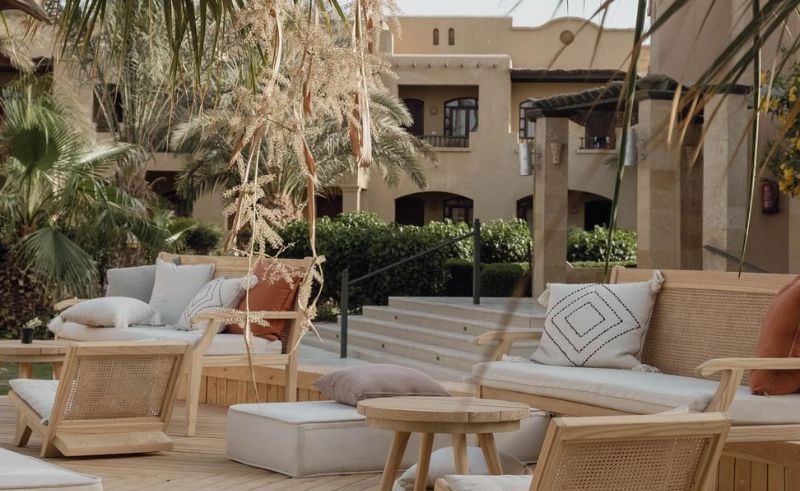 Nicole's Greenhouse
Three Corners Hotel & Resort, Gouna, Red Sea
This health-conscious eatery located in The Three Corners Rihana Resort in the heart of El Gouna offers an array of eco-friendly plant-based breakfast and dinner selections in a wholesome breezy setting that calls you to bare your soul and embrace holistic living (all while munching on some healthy greens.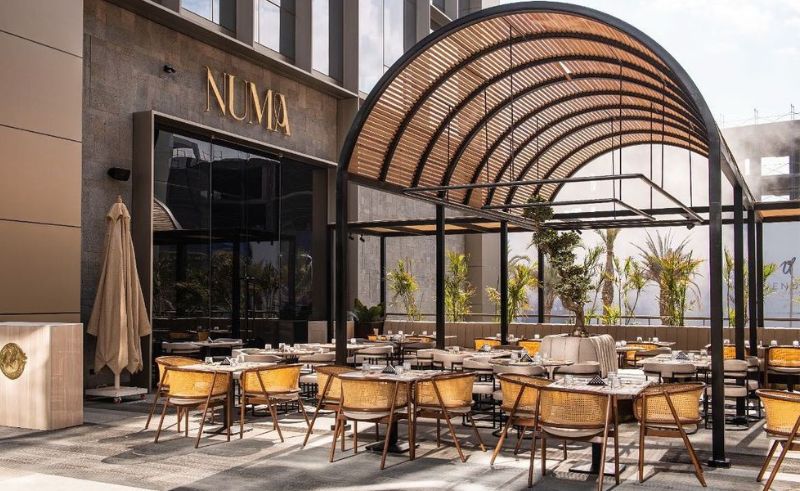 Numa Italian Eatery
Minis St, Korba, Cairo
This little taste of Rome brings a touch of Italian heritage right to the center of Korba. With succulent risottos and pesto for days, you'll be going back for more (we're speaking from experience).
The Lemon Tree & Co.
Hacienda White, North Coast
Nestled along Egypt's captivating North Coast, The Lemon Tree & Co is a culinary gem that indulges the senses with its palatable cuisine, artisanal cocktails, and breathtaking beach vistas. With a touch of elegance and a dash of coastal charm, this upscale eatery invites guests to enjoy a harmonious blend of flavours while immersing themselves in the serenity of the sun-kissed shoreline.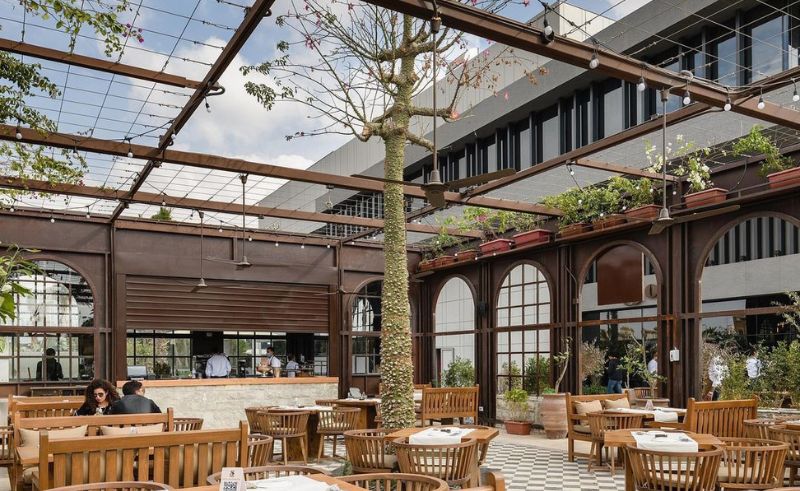 Otto
Garden 8, New Cairo
Italian restaurants are the tea, let's be real. So does it come as a shock to anyone that this list is bursting with them? Garden 8's Otto is all about serving sweet and savory Italian delicacies with a side of rustic vibes.
Tandoor Restaurant
Abu Tig Marina, Gouna, Red Sea
Another Gouna hot spot (hot pot?) Tandoor serves up premium far east selections in an open-air terrace bar. From Achari chicken tikka to Bombay potatoes, there's plenty of spice to get you (and certain other aspects of your digestive system) going.
The Lodge Restaurant and Bar
Marina, Hurghada, Red Sea
With a view of Hurghada's marina, this homey rustic spot - and self proclaimed King of The BBQ - is all about seaside comfort, fun conversations, and a good ol' cocktail to take the edge off your day.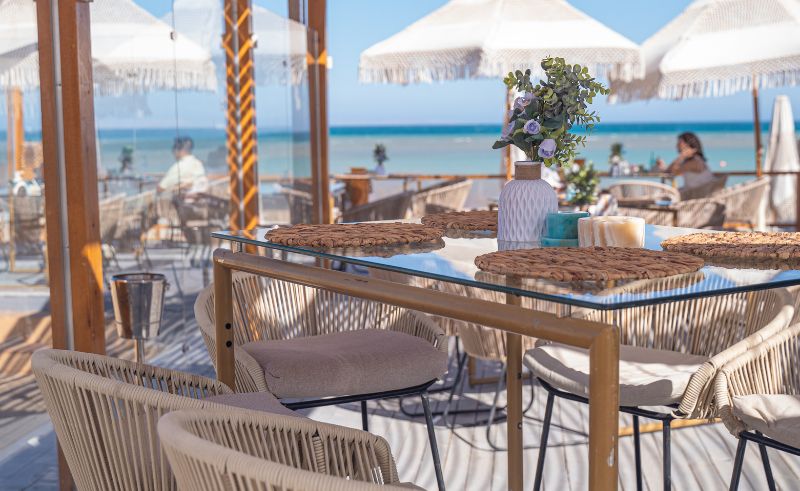 The Smokery
El Gouna Yacht Club, El Gouna, Red Sea
With its enchanting location on the edge of the Red Sea, The Smokery captures the essence of coastal elegance, offering a sensory feast where delectable flavours intertwine with the gentle caress of sea breezes, creating an indelible dining experience.
White & Blue - Greek Nautical Club
Qaitbay, Alexandria
With wines that'll have you praising Dionysus, food not even Hera could conjure up, and a view even Zeus doesn't have up in olympus, Alexandria's White & Blue will have you swearing you're in Santorini - and aren't you, sort of? You're only on the other side of the Mediterranean.