Montreal-Based 'Zamalek' Brings the Tangy Essence of Karkade to Canada
The name Zamalek is now loved by cool kids in Egypt and Canada.
The last thing one would expect to run into on Montreal streets is classic Egyptian 'karkade'. Scratch that, the absolute last thing one would expect to run into on Montreal streets is traditional Egyptian 'karkade' concocted, canned, and shared by an Egyptian, Armenian, Canadian, and Palestinian quartet - and thus unfolds the tale of 'Zamalek'.
For many years before Zamalek's conception, Jules, the brand's founder, made 'karkade'. After his displacement from his home country, Armenia, Jules' parents relocated to Zamalek, Cairo, where he grew up watching his mother brew karkade the traditional Egyptian way, and, like so many of us, became attached at the hip to its vibrant flavour. When he moved to Montreal, he was heartbroken to find that his beloved karkade was nowhere to be found, and started bringing his own supply of the flower to brew in his new home.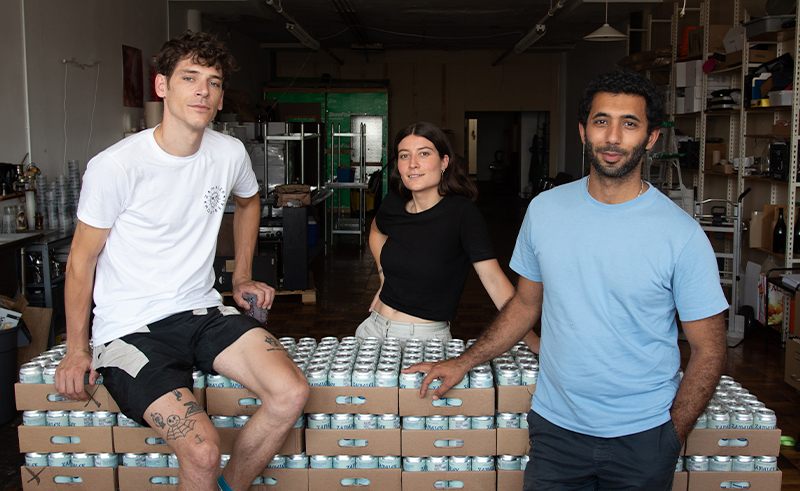 It wasn't long before people got a whiff of Jules's beloved drink and, naturally, sought it out. Jules started brewing litres of the drink and selling them seasonally to nearby restaurants and bars in clinking glass jars. The melting pot of culture that is Canada expectedly welcomed the drink with open arms and open minds, and faced no disappointment at its utter deliciousness.
Around this time, the Zamalek story gained a new character: Bashar, a Jordan-raised Palestinian - with an Alexandrian grandmother - who existed in the same social circle as Jules. Having grown up spending his summer on the coast of Alexandria, Egypt, Bashar grasped a heartfelt connection with Jules when he found that the latter shared his imminent love of the Egyptian coastal city.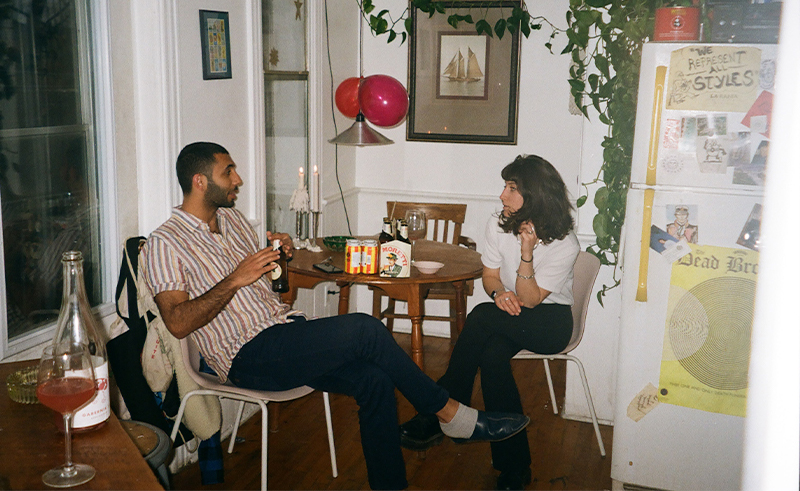 Jules introduced Bashar to the karkade dream which Bashar, being the mathematical mind of the brand, then ran through spreadsheets and calculators to verify its feasibility. Together, they started 'Zamalek' as an ode to the place Jules grew up, and a fitting icon of Egyptian culture to precede the brand's iconic karkade. They then met the third heroine of our story, Damarice, who took the Zamalek name to unprecedented heights.
The birth of Zamalek was a labour-intensive one. At the time, the three dreamers made Zamalek work using a manual canning machine, one they got to know through spending 12 hours in union with it daily.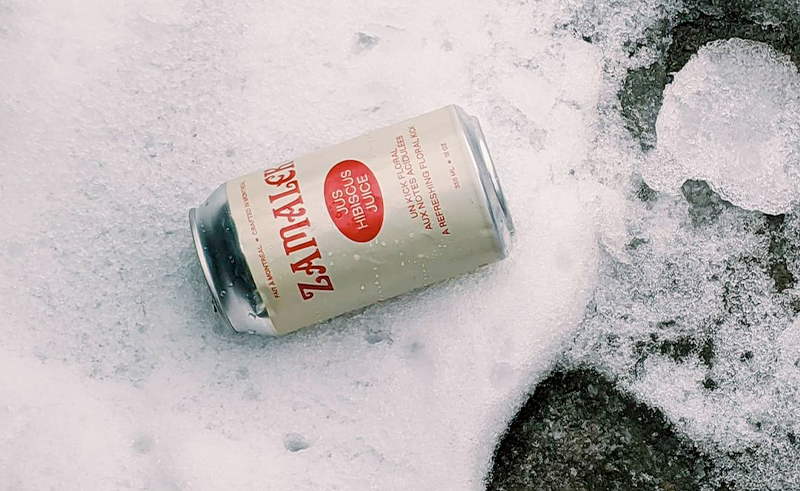 Today, the brand's means have become suitably more streamlined, enabling them to produce at a much higher rate and print the design they desire.
"The making of Zamalek was extremely serendipitous," Bashar Odeh, Zamalek co-founder and business developer tells SceneEats, "We met the right people at the right time to put together a team. Then, our product reached the right people at the right time and spread out."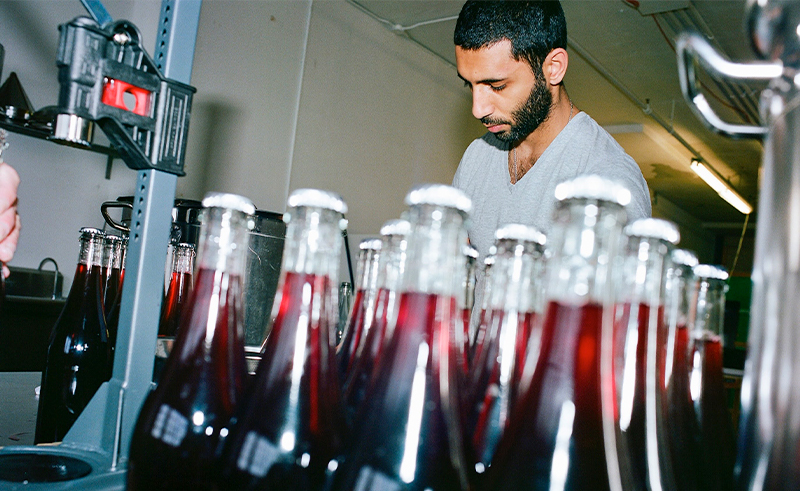 We're not entirely sure if Bashar is right about Zamalek's success being almost coincidental, or the rightfully reaped fruit of years of hard work and a desire to feed concepts of Middle Eastern culture seamlessly into the West. The latter seems more fitting, seeing the effort exerted by Zamalek's marketing team, a one-woman show run by Damarice, to paint a picture as culturally accurate as possible of the brand through suitable motifs and prints.
"With Zamalek, we pursue imperfection," Damarice tells us, "the celebration of processes, test prints, proofs, drafts. We take an iterative approach to everything."
Zamalek's logo, created by Jules' cousins in Geneva, is hand-designed to boast the sharp edges and curves of Arabic calligraphy, posing as an ode to Arab heritage. In doing so, the brand breathes Middle Eastern heritage on every front, ensuring that the heritage is spread eloquently and paying adequate homage to central aspects of culture like the language. It also means that a can of Zamalek is a breath from home for many.
Having lived outside the MENA region for a few years now, Bashar tells us that, "When I go to a store whose owner is Arab, there's immediately a sense of recognition and welcoming that breeds connection."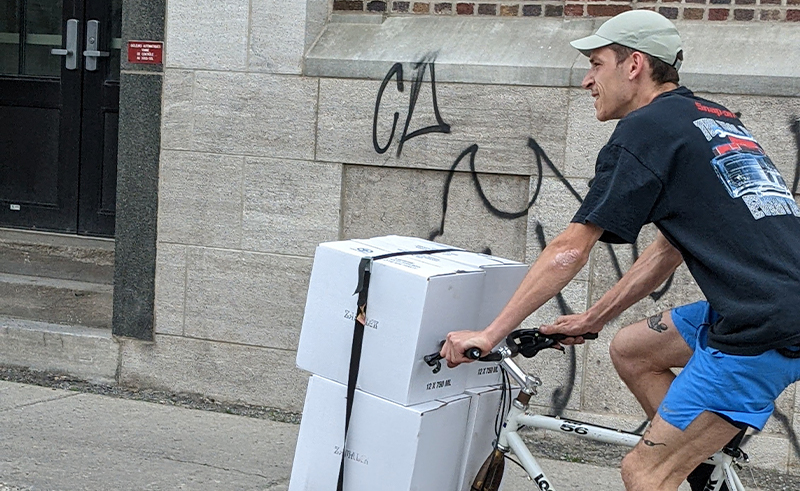 Zamalek's products, all karkade-based, range from regular canned karkade, and its carbonated cousin, to sumptuous piquettes, ciders and wines. They also serve their karkade in a tall wine bottle, crafting the perfect addition to afternoon picnics and indoor date nights for people who don't indulge in alcohol. Their newest addition, hibiscus iced tea, compliments the tanginess of karkade with zesty lemon.