Port Said Pastry Shop Taby's Adds White Spanish Málaga to Their Menu
It is giving sugar rush…and we don't even regret it.
Once upon a summer sojourn in Spain, amid a gastronomic adventure where I scoured artisanal bakeries and pastry shops in a desperate attempt to satisfy my ravenous sweet tooth, an unexpected moment of love at first sight unfolded amidst the delectable chaos and grandeur of a humble dessert – the Málaga Banana cake.
Upon returning to my homeland, haunted by fever dreams of this Spanish delicacy, I relentlessly searched for its delicate tubular silhouette and tantalizingly crunchy base in the windows of every patisserie. Although our encounter was brief, a mere flutter for my taste buds, it left an indelible imprint on my heart. Just as I was on the brink of resigning myself to the futility of my pursuit, a distant glimmer of hope materialized in the form of Taby's Bakes. Sprinkling pink powdered bliss on Salah Salem's Road, this designated Port Said viennoiserie serves an assortment of baked goodies and fluffy confectioneries guaranteed to send your glucose levels soaring. However, the pièce de résistance of their offerings is none other than our beloved Málaga. Meticulously crafted, this sweet delight boasts a moist cake base encrusted with crushed almonds, crowned by a banana generously drenched in velvety vanilla cream.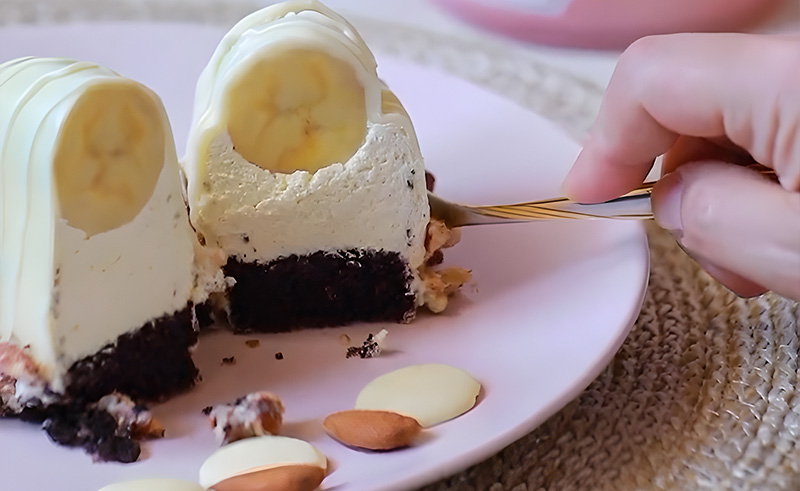 Originally hailing from the sun-kissed province of Málaga in Southern Spain, the pastry, known as the eclair of Spanish desserts, is offered at Taby's in two flavors: silky Belgian white chocolate and decadent Rocher chocolate. The spot also serves a variety of baked goodies with a French flair, including the viral Parisian flaky flan croissants, pistachio Pain Suisse, airy petite eclairs, and their scrumptious spicy and sweet creation, cinnamon butterfly croissants. Last but certainly not least, Taby's is perfect for a quick breakfast pickup on your morning work commute or a brunch with friends. Their menu features an array of savory delicacies, ranging from turkey club sandwiches to scrambled eggs nestled in a croissant wheel, along with a selection of hot and cold beverages to make your day even sweeter.