Christmas Guide 2016
We know curling up next to the fire place with a glass of coco in hand is tempting, God knows, we understand, but you're not four anymore, so here's a gazillion things happening this Christmas around Cairo!
They often say Christmas can be the loneliest time of the year. We beg to differ; Christmas is only lonely if you give into the temptation to stay home and binge-watch House of Cards on Netflix or if you're Meg Ryan; everyone else seems to enjoy themselves. In Cairo, for instance, celebrations have already started!
December 23rd
MAYA MAGHRABY/ GHANDOKLI @ WUNDERKIND

Deck the halls, Christmas joy is coming to town at Wunder Kind where your Xmas party fix will be spun by DJ Ghandokli and shaken to Maya Maghraby's sultry moves. Santa might be a bad boy this year after all… For reservations, call 01271424373.

Fridays are everybody's favourite, and they're too glamorized to pass up when it's Mohasseb behind the decks. How about a little session of House outside the house?
XMAS BACK2BASICS FT. UNER @ 1925

We truly believe we are in safe hands this holiday season as Back2Basics are back with a crazy Christmas party alongside Spanish sensation Uner and local talent heroes Abou Samra and Jimmy. For reservations, call 0100 970 3 970.
CHRISMAS FOOD MARKET @ WESTOWN HUB

Christmas is coming all the way to Westown Hub! Get ready for the biggest holiday shopping session, but you'll also get to ice skate, have fun with Santa's grotto, and shop for high-end Christmas gifts and decorations.
CHRISTMAS CELEBRATION BAZAAR @ LE PACHA 1901

Get your Christmas bling on as Le Pacha celebrates Christmas with loads of classy fashion items and a few surprises along the way. Don't forget to say hi to Santa and grab your gift! Or you could just grab your gift and make a run for it.
CHRISTMAS CAROLS @ ROYAL MAXIM PALACE KEMPINSKI

The violins sing with joyful ring! Christmas is coming to town, and you can have all the hot cocoa in the world while you chant carols in both English and French at Royal Maxim Palace Kempinski this Friday!
CHRISTMAS CHARITY @ KEMPINSKI NILE HOTEL

It's beginning to look a lot like Christmas! Celebrate the magical season with one of the best Christmas Carols in town, Om Elnour Choir, alongside the children of 57357 hospital to bring the joy into their Christmas. Isn't that what the most wonderful time of the year is all about anyway? For more info and reservations, call +202 27980000.
December 24th
EL SWEASY / ISLAM CHIPSY @ CAIRO JAZZ CLUB

What flavour? Family size? Can we get some Pringles, too? So many questions spark up in our minds when we think of Islam Chipsy's last nickname. We know you secretly groove to the melodies of the auto-tuned, which is why you'll be swapping your reindeer ears for a scarf around your waist this Christmas as you share your untold shaabi love affair with the world. Joined by El Sweasy, they've teamed up to put our judgmental thoughts aside and blast out to guilty pleasurable shaabi tunes.
CHRISTMAS FT. HORRIBLE DJS @ LOFT 21

Horrible DJs are planning not be so horrible this Christmas. They vow not to let you have just another Christmas night out this year!
SWAGGERING HIP HOP @ VENUE LOUNGE & BAR
Swaggering is no joke. Notorious DJ Feedo is set to appear along with DJ Fedde, DJ Phil, and DJ Adam and Egyptian nightlife belly dancer, Farah Nasri, is also planned to perform. We hope she can twerk. Get two free shots for joining! Couples and mixed groups only. Tickets are 350 LE – 400 LE (at the door).
FESTIVE FINE DINING CHRISTMAS @ RAMSES HILTON HOTEL'S CITADEL GRILL

When your starter choices include fresh marinated salmon with green apple and celery root cream served with winter salad leaves, or prawns roll with pumpkin and melon salad served with creamy lime mayonnaise - you know you've picked the right place to have dinner. With main courses ranging from roasted turkey to beef fillet medallions, along with a delicious Christmas pudding to wrap it up, the most wonderful time of the year will be involving a heavy binge at the Citadel Grill. Don't forget tea!
CHRISTMAS CHOCOLATE BUFFET @ FOUR SEASONS NILE PLAZA'S LOBBY LOUNGE

What's better that chocolate? More chocolate! Let yourself totally go in an all-chocolate buffet this Christmas time. Christmas calories are a myth. Fees are 250 LE.
CHRISTMAS EVE @ JW MARRIOTT HOTEL CAIRO'S STEAKHOUSE

A four-course delicious menu that will definitely involve something for the hungry carnivores, along with all the wine that you can ask for, all sound a lot like Christmas Eve!
CHRISTMAS EVE @ JW MARRIOTT HOTEL CAIRO'S AHLEIN

Christmas needs to be a little spiced up? Ahlein are putting together Arabic entertainment and a belly dancer for Christmas Eve. You are in Egypt after all!
FROSTED CHRISTMAS @ FOUR SEASONS NILE PLAZA'S GRAFFITI

It's finally the season to be jolly, and this year Graffiti takes things to another level to bring a shimmering, white Christmas to Cairo! The ultimate dancing diva Dina will be joining DJ Remon, along with the Oriental Band, to keep you all warmed up around this time of the year. Prices are 1,100 LE. For reservations, call 010-6667-7762.
CHRISTMAS EVE @ FOUR SEASONS NILE PLAZA'S UPPER DECK

Did you know Grammy Award winner Amy Grant is back with a new Christmas album for the first time in 20 years? That will be something nice to listen to as you munch through Upper Deck's Christmas Eve dinner this weekend. Prices are 350 LE.
CHRISTMAS DINNER @ FOUR SEASONS NILE PLAZA'S BELLA

Bring the kids and the grams along to Bella's lavish 5-course set menu because you amidst all the Christmas joy, you shouldn't be wasting time picking out platters! Prices are 750 LE.

CHRISTMAS DINNER @ FOUR SEASONS NILE PLAZA'S EIGHT

You think an eight-course menu for Christmas dinner is too much? It's probably less than what you will binge on the rest of the holidays! Prices are 988 LE.
CHRISTMAS EVE @ FOUR SEASONS NILE PLAZA'S THE BAR

Who knew Christmas at The Bar could be so delicious? Bella will be serving up their five-course menu for 750 LE.
CHRISTMAS EVE DINNER BUFFET @ SOFITEL EL GEZIRAH'S LE SUD

Joy to the world! And it will be getting a lot happier once you get through Le Sud's Christmas Eve dinner. Fees are 450 LE.
HOT CHOCOLATE FESTIVAL @ SOFITEL EL GEZIRAH'S LA MADELEINE

Nothing can keep you warm through the frost of Christmas than gallons of hot chocolate! La Madeleine's Hot Chocolate Festival isn't afraid of the excessive acne you'll be getting, and neither should you be. Best served with marshmallows. For reservations, call 01155912244.
CHRISTMAS EVE DINNER BUFFET @ THE TIPSY TEAPOT

Haven't had enough of Thanksgiving turkey? Good. You'll be getting a lot more protein for Christmas, and it involves mac'n'cheese, mash, lemon chicken, salads, and hopefully too much dessert. Prices are 150 LE. For catering up to 20 people, prices are 1,500 LE.


CHRISTMAS PARTY @ RENAISSANCE HOTEL'S VINTAGE BAR & LOUNGE

Christmas doesn't get anymore classy thanVintage Bar and Lounge's elegant Christmas party, where a live DJ and an exotic belly dancer are doing the entertainment honours!
Happening December 24th and 25th
CHRISTMAS EVE BUFFET @ CAIRO MARRIOTT'S ROY'S

Our holiday belly just appeared after reading the word buffet. Buffet for Christmas Eve for 220 LE ++ (6pm-11pm). Then buffet for Christmas Day lunch for 190 LE ++ (1pm-5pm). And then some more buffet for Christmas Day dinner for 220 LE ++ (6pm-11pm). We're going to fit as much food as we can in our new 'buffet belly', courtesy of Roy's Country Kitchen.
CHRISTMAS SPECIAL DINNER @ CAIRO MARRIOTT'S SARAYA GALLERY

A special Christmas Eve and Christmas Day menu from the magnificent chefs at Saraya Gallery. On Christmas Eve, you can expect a warm and festive night with piano riffs pirouetting throughout the evening, as you enjoy dinner with your loved ones for 600 LE ++.
On Christmas Day, Saraya Gallery is catering to whatever lunch time gathering you choose to have for 500 LE ++. Elegant food and classy wines to kick off the festivities for the rest of the day.
CHRISTMAS EVE @ JW MARRIOTT HOTEL CAIRO'S PLATEAU

Bring the family along, Plateau wants everyone to drop their phones, and settle around the table to have a cozy Christmas dinner! A la carte beverages are also available.
CHRISTMAS EVE @ JW MARRIOTT HOTEL CAIRO'S CUCINA

Having Christmas dinner doesn't mean you have to be at home! Cucina will be serving up an Italian-inspired four-course menu with live entertainment minus you having to do any of the prepping or cleaning!
CHRISTMAS TREATS @ THE SMOKERY


Smoking things up this Christmas is The Smokery, who'll be treating you to special Christmas platters and treats, along with a visit from Santa himself bearing goodies! Reserve your place now by calling 01026019175 for the Katameya branch or 01205444490 if you happen to be in Gouna.
CHRISTMAS EVE @ JW MARRIOTT HOTEL CAIRO'S LEMONGRASS

Christmas doesn't always mean you need to let your mother hectically put together a whole banquet! Give her some rest, Thanksgiving's just passed, and indulge in a festive four-course a la carte menu at Lemongrass.

CHRISTMAS @ ROYAL MAXIM PALACE KEMPINSKI

If you're hoping to stay the night at Royal Maxim Palace Kempinski, anyone with a ticket to Amr Diab's concert in will be able to stay at a single room for 1,000 LE, or at a Deluxe City View room for 1,200 LE, including breakfast and taxes.
CHRISTMAS EVE @ JW MARRIOTT HOTEL CAIRO MIRAGE CAFE

It's not okay to have McDonald's for Christmas. Mirage Cafe is having a Christmas-inspired buffet with entertainment and a la carte beverages. Xmas saved yet?
CHRISTMAS DINNER @ RENAISSANCE HOTEL'S CITRON

Style your Christmas with an elegant 'buffet belly', courtesy of a delicious Christmas Eve dinner buffet and Christmas Day buffet from Citron. Since Santa Claus will be giving away something really special, we think he'll like it more if your 'buffet belly' is almost as big as his. Eat up!
CHRISTMAS DINNER @ RENAISSANCE HOTEL'S CHINOIX

Chinese for Christmas Eve dinner and then some more Chinese for Christmas Day lunch, because we can never have too much Chinese food in our life! We know that Chinoix always provide the goods.
December 25th
CHRISTMAS FT. DJ GHANDOKLI @ KAZOKU

It's the most wonderful time of the year, and DJ Ghandokli wants to make it even more wonderful by supplying enough music for you to not feel guilty as you binge your way through Christmas. For reservations, call 01126-000-4877.
NUTCRACKIN' CHRISTMAS @ CAIRO JAZZ CLUB

The Nutcracker belongs at the Opera, and the real Nutcrackin' Christmas fun is on the other side of town at CJC. Get ready to have a rockin' Xmas with Vybe, Amy Frega, Funk Off, and Voice & Bass.
Lord knows we have been naughty this year and we're keeping it up, only we're amping the festivities on December 25th for our red hot Xmas party! Ho, ho, ho. For reservations, call 01212103512.
CHRISTMAS CONCERT FT. NEVEEN ALLOUBA @ CAIRO OPERA HOUSE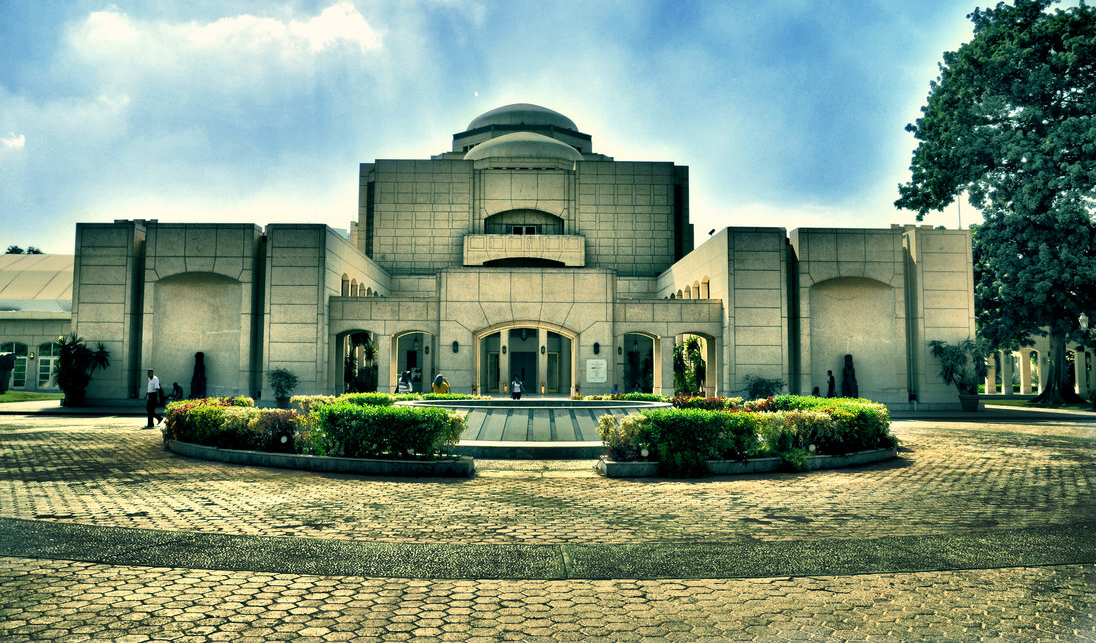 Neveen Allouba teaches voice at the American University in Cairo. She is also assistant professor at the Academy of Arts. She's also performed all over the world with her lovely voice and recorded the Arabic world premieres of Mozart's Le nozze di Figaro and Don Giovanni at the Cairo Opera House. She is also performing tonight at Cairo Opera House's Small Hall with a hint of Christmas spirit.
They've just opened up a couple of weeks ago, but Keji, one of the hottest new places in town, is more than ready for the most wonderful time of the year. Who knows? Santa might be lurking somewhere around the corner checking up to see how good you've been this year...
AMR DIAB @ ROYAL MAXIM PALACE KEMPINSKI

Apparently, we were very nice this year, and on December 25th, Santa aka Checkmate Events, are putting under the Christmas tree a Great Gatsby dance party with musical superstar Amr Diab, phenomenal shakers Amie Sultan and Maya Maghraby, along with quirky spinner Ramy DJunkie rocking you at Royal Maxim Palace Kempinski. Tickets can only be purchased through reservation line 01159775662 or 01159775663 or 01159775664 or 01159775665.
SECRET LUNCH SPA ESCAPE @ WESTIN CAIRO GOLF RESORT AND SPA

Nothing like a good rub could wrap up a stressful year and prepare you for the brand new chapter of your life. Munch your way through their delicious lunch, and might as well take a dip in their (heated) outdoor pool! Sounds like a plan. The Package is for 750 LE. For reservations, call +(202) 23228000.
CHRISTMAS DINNER @ MENA HOUSE HOTEL'S 139 PAVILION

We know the Grinch within you is urging you to keep at home for Christmas, but don't you listen to that green monster! You will have your special Christmas dinner night out at 139 Pavilion with the view of the pyramids because you don't need no man! Prices are 480 LE.
CHRISTMAS LUNCH BUFFET @ RAMSES HILTON HOTEL TERRACE CAFÉ

Christmas isn't always about cooking, it's about sharing! Terrace Cafe in Ramses Hilton is putting together a fancy lunch buffet that will fill up the whole family with Xmas vibes and roasted veal. Prices are 349 LE per person all inclusive. For reservations, call 01022218977 or dial 4 from your room.
CHRISTMAS BRUNCH @ SOFITEL EL GEZIRAH'S LE PALMERAIE

Le Palmeraie and Le Sud are cooking up delicious Christmas brunches with a wide selection of cuisines to fit all sort of cultures and tastes. Yes, picky eaters can totally come along too. Prices are 475 LE all inclusive with free soft drinks, and 600 LE with free local wine and beer. For reservations, call 01155912244.
CHRISTMAS LUNCH BUFFET @ FOUR SEASONS NILE PLAZAS ZITOUNI

Reindeer ears can be worn at the table! Just at Zitounis, who will be serving a Christmas lunch buffet for 470 LE. Take your parents permission first. Show them how much of a grown up you are.
SEASONS OF LIGHT 2 EXHIBITION @ GRAFFITI CAIRO

Celebrate the most wonderful time of the year with art! Graffiti Cairo will be hosting a Christmas exhibition with the theme of Seasons of Light 2. Talented hosting artists Elhamy Naguib and Heike Mueller-Treptow will be exploring their own genre of "Joie de vivre" and being thankful for the light within. The opening night will be on the 6th of December at 7pm and the exhibition will continue until January 7th. Join them and ignite the light within you too!
CHRISTMAS EVE @ JW MARRIOTT'S LA PATISSERIE

Those gingerbread men cookies aren't going to bake themselves! But if you want them too, La Patisserie's serving up Christmas goodies all the way till next year! A Christmas miracle?
COUPLE'S CHRISTMAS PACKAGE @ JW MARRIOTT HOTEL CAIRO'S MANDARA SPA

No better time to get over those relationship issues than to take your most loved one out for a Couples' Christmas Package entailing a 1.5 hour massage of your choice, a bath, and your total free access to the swimming pool, sauna, steam room, Jacuzzi, and relaxation area. Did your muscles just loosen up reading this? Imagine going through the experience!
CHRISTMAS MARKET @ CAIRO FESTIVAL CITY


Haven't shopped for the most wonderful time of the year yet? You suck. You're late. CFC's got your back. The Christmas Market will be selling everything you'll be needing all the way to NYE - including reindeer ears.