MOSHTRQ Envisage The Left-Field Soundtrack to Cairo
In their first interview as a collective, SceneNoise spoke to the underground music collective to probe the viability of experimental music in Cairo, and to explore their riotous debut album MOSHKILA.
Photography by SceneNoise / Fares Zaitoon
In a subtle alcove of Cairo's music and arts scene is MOSHTRQ, a multidisciplinary collective of independent musicians and visual artists teasing cutting-edge, subversive artforms out of the city's creative yield. Given their esoteric vibe, it's naturally tricky to sum up their direction in any one style or under the umbrella term 'experimental.' Anything from rap, breakbeat to ambient and live visual art 'VJing' falls within their repertoire – plus, as we'll be unpacking, a genre-hyphenated debut album which just dropped, called MOSHKILA, that's well worth the listen.
What brings this crew together, for the most part, is a DIY, critical approach to musical output, eschewing art as a commercial product and pushing each other's work to new places through jam sessions and production collabs. They play around with sounds that aren't always easy on the ear, but they've landed on a niche that's important in what it stands for: envisaging a more leftfield, industrial soundtrack to the city, and giving artists of marginal, underrepresented genres in Egypt the space to do so.
A few weeks back in what was their first interview as a collective, I met up with members of the elusive crew: Ambi, Ashrar, Azzouni, Balla3058, Belahadaf, and Karim Serry. MOSHTRQ's membership fluctuates, often working with good friends and affiliates – two examples of this are Assyouti and GalalaLive, who also contributed to the debut album.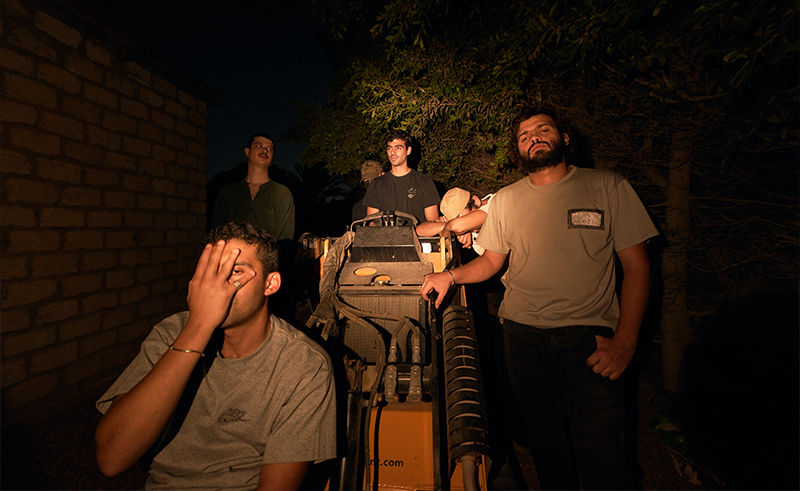 We met up after dusk at 'The Shack', a former agricultural storage shed in the midst of an off-grid greenhouse complex, currently used as Azzouni's studio; a DIY space for MOSHTRQ meetings and the occasional live sessions. It's a peaceful hideout where the city's cacophony mutes to a hum, and, setting up camp on some wooden stumps outside, I got to know the team a little better, before digging into their new album.
THE EARLY DAYS: VENT, LOCKDOWN, AND A B2B AT CJC
"We came together musically through the pandemic. When the lockdown hit, a bunch of us, already good friends, migrated up to the North Coast to spend a short stint living together," Belahadaf tells me. "We had a setup with CDJs and a mixer, and everyone kept their music on the same laptop we used to mix with. Messing about on the decks became a daily activity, just having fun with it."
"I guess in that period of time, we came to understand each other musically, because we'd all come from different places – I focus on ambient music, for example," Belahadaf continued. "When we'd mix together everyone would leave their 'fingerprint' on the set."
Those cooped-up jam sessions led the crew to play a 5-person b2b set at Cairo Jazz Club in the immediate post-pandemic of September 2021, something of an iconic event which launched MOSHTRQ as a collective. It set in motion a regular event series for underrepresented genres, often montaged with live visual art from MOSHTRQ-adjacent artists and friends such as Zeyna Salem, Alia Habib, Saafan, and more.
"We played a lot of bassy stuff, dubstep, jungle, a lot of breakbeats. The scene here is mostly into melodic or deep house – the ecosystem of people who like our tracks, it's a small scene. You could fit them into this shack right here," Ambi tells me, pointing around the small garden house where we're sitting in Giza.
"But yeah, that b2b set was a lot of fun. It's never been the same since…", cue laughter from the circle.
"I won't forget what a friend came and said to me after the show. She was like, howa da ma3na el sadaqa. That's what friendship is. Me and that friend, we're not super close, so the fact that she caught that vibe from our performance was special. But yeah, I think this is what MOSHTRQ is," Belahadaf adds.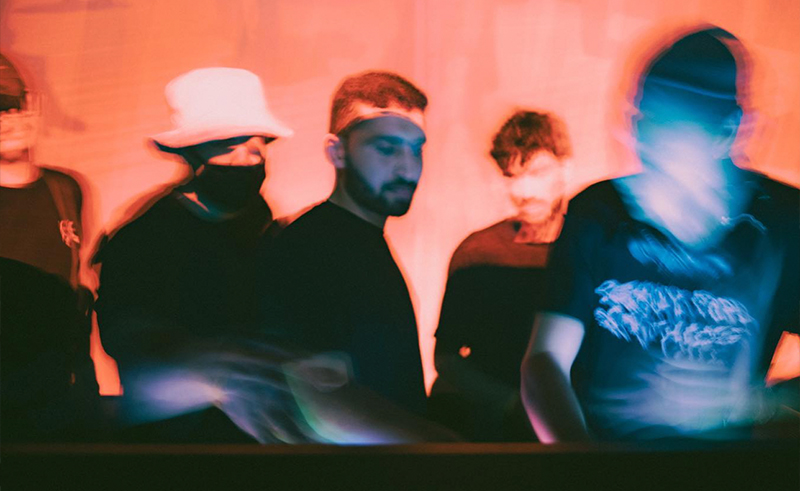 Photo by Omar El Kafrawy
"I liked the ridiculousness of it. To have a 5-person b2b on a Tuesday night, and have people actually show up. It was a whole cocktail of funny moments," Azzouni shared. "The success of that event proved the viability of playing niche electronic music more often; it showed from a market perspective that there was a space for small-scale events on a regular basis – rather than Jellyzone, for example, which hosts one big event every few months or so."
A little background info, for those unfamiliar with the genealogy of Cairo's underground music scene – Jellyzone, run by Donia Shohdy, is today one of the longest-running and most successful underground-hybrid nights that has come about in Cairo, with a focus on high energy left-field genres. However, it can be argued that the advent of all-things-underground in the city dates back to VENT in 2013, which was deeply intertwined with the collective KIK [Kairo is Koming] made up of ZULI, Nader Ahmed, Asem Tag, Bosaina, Hussein El Sherbini and Ismail Hosni.
Pretty much the first event series of its kind to be run by musicians, for musicians, VENT's music-first approach welcomed a healthy spectrum of Cairo's subcultures, from bands to rappers and deconstructed club music. The miscellaneous crowd it gathered, receptive to weird beats and fresh sounds, did a lot to steer the city's music output into a new direction.
VENT has since stopped running events, but it left its mark on MOSHTRQ, who have been torch-bearing their legacy – indeed Azzouni, who was once invited to play a VENT gig at the tender age of 16, is a MOSHTRQ member today.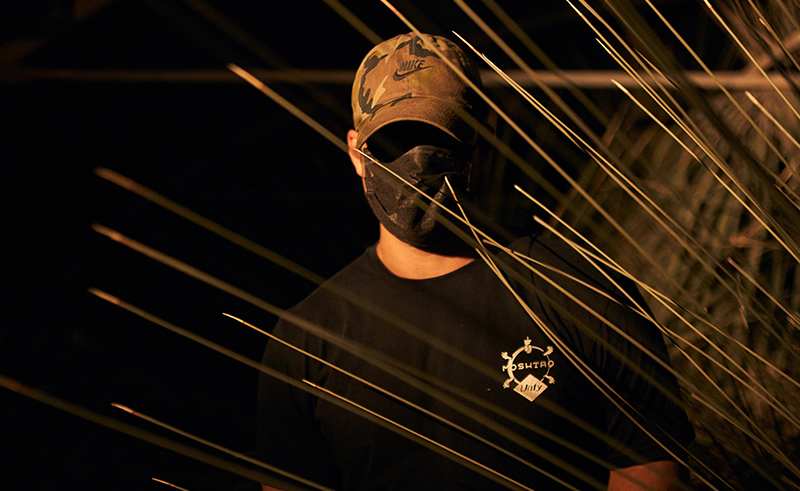 DJ Ashrar
VA01 – MOSHKILA: THE PREMIER RELEASE
Veering away from live sets, MOSHTRQ have released their first compilation album, nine tracks long. MOSHKILA brings disparate musical elements into its orbit, from warped breakbeats to strained vocal chops, tempo-shifting hybrid-bass, jungle-techno and militaristic sampling.

The album's 30-second intro 'Mind Your Language' by Wagdy Yachter is a portent for the album's unruliness, cutting and slurring the words "What the f*ck is this," for the entirety of the song – if we can call it a 'song.' It brings flavour and wry self-awareness to the table from the get-go… plus points from me. You catch a better feel for the Cairo-based producer's finesse and creativity on his guest NTS mix from earlier this year (perhaps my favourite mix I've heard all year. Go listen to that right after MOSHKILA.)
Burnished with fuzzy synths and pattering breakbeats, Postdrone's 'Yaa' samples warm Sufi vocals by Sheikh Ahmad Barrayn that stretch, glitch and decay over the course of the song. Ashrar's 'Impolite' is, as the name suggests, disruptive in its concoction of tight frequencies at the start, and a maelstrom of breakcore and static at its peak.
If overall high-octane and riotous, the album does slow right down to a hum a couple of times in the album, with dark-ambient tracks that will appeal to minimalist-drone devotees. Belahadaf's 'Nasi Esmo' is a 7-minute amble into an increasingly militaristic landscape of silence, artillery and thunder that puts the listener under trial, leaving you hyper-vigilant. Ambi's 'Ihim,' for its part, was live recorded and plays with heavily-modulated 'creaky' synths to cast a disconcerting, mercurial atmosphere — in my mind, it's portraying something of a caged animal.
"Deep down, I don't think throwing parties was ever the main focus for MOSHTRQ, as much as that was a great opportunity for a while," Ambi reflects at our evening link-up in Cairo. Azzouni backs this up: "The album's been an important step to start releasing music into the city. It goes beyond just the DJ space, because if you're not injecting any new music in the ecosystem you can't change the sound of the cities."
Azzouni makes a valid point here: albums like MOSHKILA, alongside compilations like Irsh's first and second compilations, signal that fresh and forward-thinking creations are still able to propel Cairo's underground scene. Pushing against the artistic brain drain that plagues Egypt, brought on by many artists moving abroad to kick start their career, MOSHKILA represents creative risk-taking in a way that's homegrown and homebound.
When I ask how long it's been in the planning, the crew laughs. "We finished it the day of release," Ambi says.
"We definitely learned a lot in the process," Ashrar tells me. "It felt like a really intimate thing when we first started showing each other our music and exchanging our tracks."
"We've all got our different creative processes. Some use hardware like synthesisers and drum machines, some are completely 'in the box.' Belahadaf does weird stuff with guitars and Balla3058 (usually the crew's graphic designer) will even make tracks on his iPad," says Azzouni. "So that's been the nice part about learning from each other. We'll be like, 'Yo, how did you get that bit to sound like this?' Or, 'Hey, have you heard of this plugin? Makes your sub bass sound massive.'"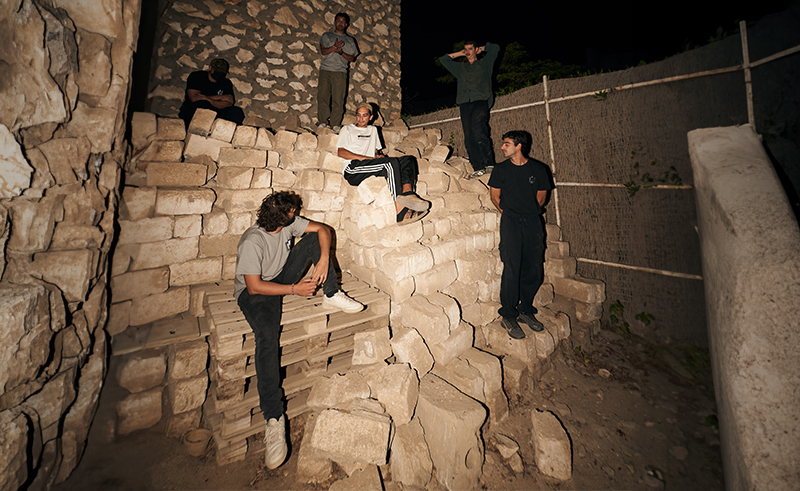 If MOSHKILA bears hallmarks of MOSHTRQ's exchanges, collabs and feedback loops, Azzouni's track with Ramallah-based rapper Dakn is a good example of this. A rap song that blends grime with leftfield bass, '(Y.S) Riddim' involves Dakn's lyrical flow running over the top of a multi rhythmic, unconventional structure. With a tempo increase after the first segment, jungle elements and even a breakbeat maqsoum, its composition makes it less straightforward for MCs to rap over.
"The beat 'demanded' an advanced MC so to speak, and Dakn was the only homie who could keep up," Azzouni explains. "When we worked together on 'Siteh' from the Irsh compilation – as well as an in-person session where an early demo of 'YS Riddim' was drafted – I knew he was someone who could do it justice."
"Most regional rappers these days don't actively explore new beats or styles – I think what's holding regional rap back is producers not challenging their rappers. It's wild hearing grime rappers in the UK, or baile funk MCs in Brazil jumping on some incredibly wonky, forward-thinking beats and still coming out with hard bars. There are a few voices in the regional rap scene who are down to push themselves, and those are the people I want to work with."
"It's about making something that I'm satisfied with, creatively," Azzouni continues. "Whether or not it is commercially viable, or whether people listen to it is not part of my thought process. The aim isn't to make a 'product' as much as it is to make something challenging, fresh, and fun." Big nods of agreement round the circle on that one.
So what's next for the crew? I ask.
"TDIM," Ambi says, and the whole group repeats this back with a smirk. They tell me it stands for 'The Destruction is Massive,' the sixth track on the comp, produced by GalalaLive. I'll be sitting tight to see what basslines and bars they tear up next.