Wall Of Sound - The Saudi Indie Label Giving Artists Their Voice Back
For the latest 'Tuned In' with XP Music Futures we sat down with Wall Of Sound co-founder, Ahmed Shawly, to talk Saudi music scene and the story behind their growing label.
Tuned-In is a new monthly series presented by XP Music Futures and SceneNoise that spotlights the labels, collectives and movements shaping the future of MENA's music industry.
Launched in 2020, Jeddah-based Wall Of Sound has quickly grown to become one of the most established independent record labels in the region with over 25 up-and-coming and established artists under their roster encompassing a multitude of genres, including El-Waili, Fulana, Albaitil Ashwai, Samar Tarek and Dirty Backseat to name a few.
We sat down with records connoisseur and Wall Of Sound co-founder, Ahmed Shawly, to talk about the Saudi music scene, their upcoming projects, and the full story behind the growing indie label.
Can you tell us a little about your history with music?
I mean, I love music so much. I was raised in a family where music was a big part of our lives, and by the time I was 12, I was like, "I'm definitely going to work in the music industry."
When I reached 20 I started looking for any jobs in music. I went to one of the biggest record companies in Saudi Arabia, Music Masters, looking for a job, and they were like, "screw you, goodbye." My brother had a connection in Rotana so I went and worked in one of their huge retail shops in Jeddah for a couple of years. I gained immense experience and learned the know-how of the music business, dealing with customers, and discovered new catalogues, albums and titles. I became a fan of all music genres in general, so that was amazing.
I started gaining this reputation as a good salesman selling unknown titles, with people coming to me to discover new music. And in 2006, the same day I graduated from marine geology, I got a call from Music Masters saying we need you to join us. I worked with them from 2006 to 2013. I was handling wholesale at the beginning, moving to Universal Music in Germany and then Sony Music and AMI Warner. For the eight years I worked with them I was handling the record label, the whole music clearance, the distribution, retail and wholesale.
Then I was like, it's time to move on. I've been doing music for 13 years, I'm 33 and I know nothing but music. So I felt like I probably needed to be smart and try something else, so I switched to a pharmaceutical job where I worked for eight years, and during this time, I came up with Wall Of Sound with my friend Ayman Nouh.
In your own words, what is Wall Of Sound?
Oh, Wall Of Sound is my family. It's everything to me at the moment. Wall Of Sound is an independent music label where music comes first and money comes probably third or fourth. Most days I can't think of anything but it, how we can make things happen, how we can improve, how every artist can get their own fair share of market value, how we can represent them. So, everything is about Wall Of Sound really.
What are the different challenges that you face?
Dealing with our roster for sure. Wall Of Sound has around 28 artists spanning different genres, music, personalities and backgrounds. So dealing with every artist, I need to understand every aspect of them. Why they're doing music, their needs, what's the best direction for them, how to best represent them, even how to tackle each country's local market, since Egypt's market differs from Libya from Lebanon from Jordan.
Expectations are probably the most killer element.
Some artists believe that if they drop a song today, tomorrow they'll become famous and big stars. 99% of the time, that's not the case. You need to put a lot of hard work behind your music. You need to keep releasing music, keep preaching your music, talking to people about music. Nothing happens in a single night. So definitely how to set expectations for each artist is one of the most important things to me.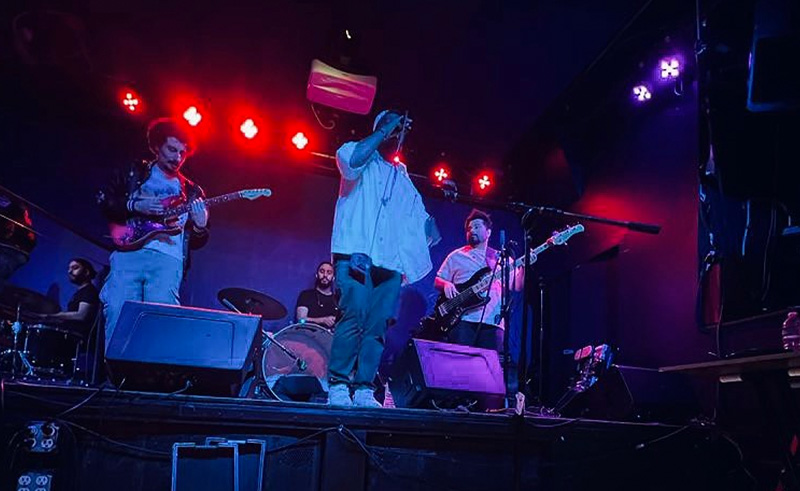 What are your opinions about the Saudi music scene?
It's going amazing. It's growing. I mean, we have the very commercial music scene with Khaliji and Arabic, and then we have the electronic DJs movement, and then we have independent music. Independent music is growing day by day, is it enough at the moment? Absolutely not. Looking into the Saudi market and even with all the support we're getting, it's still a small growth, but it's happening. I believe Saudi Arabia in five years from now will be a huge hub for independent music.
How are you adapting with the progressive advancements that Saudi Arabia is going through?
I mean, we're seeing this movement happening and it's getting bigger, and we have the blessing from the government and the people themselves, so that was a main factor which pushed us to be like, "It's time now to do music." There's a good market for DJs and traditional music, but I would definitely say there's no market for independent music. We're trying our best but it's still difficult. We're still fighting everyday to make things happen, we're still fighting to see how we can gig, how we can do this, how we can do that. It's still not there, but we're trying to adapt as much as we can.
How can artists benefit from signing with Wall of Sound?
We try to add our value, which comes from our mixing and mastering, our recording, our opinion in music and directions, and our investment in music. We're always telling artists you don't have to think about anything but your music. We take care of everything, whilst still giving the lead to the artist. We never try to influence or change the artist's work in any way, shape or form. We just advise, because it's their expression at the end of the day.
What are your criteria for choosing artists?
Edginess. If your music makes me sit back, close my eyes and fall asleep, then it's not for me. I want you to be edgy. I want you to move me. I want you to make me feel like there's something happening, whether from the lyrics or music or your personality. Secondly, uniqueness. I don't like recycling what's already in the market, they have to be different. Lastly, the know-how of writing music. No one else is gonna write it for you. I'm not gonna assign you a writer just because you have a nice voice. Everything needs to come from the artists themselves.
Who were your first signings?
Skeleton Crowd, an alternative Saudi band. I remember vividly in 2017, I was in the kitchen with my wife and I was on Twitter and somehow came across their page. They had posted their debut track, 'Masquerading Crowd', and I told my wife, "If I'm going to ever have a record label, this is going to be the first band I sign." And that was the case.
What are some of the projects that you're most proud of?
Well if we're doing it by region, for Saudi I would definitely say Fulana, I'm so proud of her. Her story and how she went from this to that, to being recognised at the moment as the Queen of Indie in Saudi. Also, Statues of Sinking Men, one of my favourite Saudi bands doing this very harsh Synthwave style like Nine Inch Nails, with a very small niche market.
Regarding Egypt, there's El-Waili of course, Samar Tarek and Dirty Backseat. If we're talking Jordan there's Albaitil Ashwai.
I'm absolutely proud of everyone really, each has their own story. With every track that comes out, I feel we've done an achievement, it's like a baby coming out, seriously.
What are future projects that fans can look forward to?
I would definitely say the upcoming album for Fulana, probably to be released in the second quarter of 2024. Then there's Albaitil Ashwai's album, which is coming probably at the end of this year. Statues of Sinking Men, who usually sing in English, will release an all-Arabic album which will be very interesting. El-Waili has two EPs coming up, so yeah, we have a lot of things in store for the fans.
What's your ultimate goal?
To be the home of independent music in the region. We want to be the first thing that comes to artists' minds when they think of record labels. Artists that want to be part of our family because we care about putting genuine messages out there.
Lastly, what does it take to grow such a beard?
Hahaha. I've actually only shaved it completely two times in the last 23 years. Once for my brother's wedding and once for the Pharmaceutical job interview. I can't take care of it myself, my wife takes care of it.