Best Music Videos of 2022 (Middle East & North Africa)
SceneNoise's selection of the best MENA and Arab world music videos released across various genres in 2022.
In today's music world, visual presentation has become a key factor for an artist's success, and with the help of talented film-makers, artists around the region have been owning up to this by creating stunning music videos to amplify their work and supplement their artistic vision. To celebrate the visual artists working tirelessly behind the scenes, we've compiled this list that spotlights the directors, animators, stylists, and visual creators who bring these releases to life with their hard work and creativity.
These are our picks for the best music videos of 2022:
Abyusif - Ha3
Directed by Zeyna Salem & Ibrahim El Naggary, the music video for Abyusif and Ismail Nosrat's 'Ha3' shows a laid-back Abyusif in an instant photo-booth. Abyu is joined by a number of actors coming into the booth, and having their pictures taken with the Egyptian rap icon while he performs to camera. While this sounds basic on paper, the video is brought to life by the excellent casting provided by local agency Keeva, where the actors in the video showcase a diverse representation of Egyptian nationals, all of whom provide entertaining cameos in the clip.
Afroto - Brazil (ft. Marwan Moussa)
Despite being shot in Egypt, director Omar Donga transports Afroto and Marwan Moussa to the streets and favelas of Brazil, convincingly emulating the visual aesthetics often associated with the nation.
Ahmed Santa - Ahmed Santa
Ahmed Santa plays Ahmed Santa in 'Ahmed Santa'. The music video for the track, produced by Mello, showcases the innovation and creativity of director Muhammad Korayem, as well as animators Aly Areba and Baher Daif. Together, they bring us an exhilarating visual experience, which blends classic film references with anime-inspired animation sequences that still blow our minds every time we watch the video.
Albaitil Ashwai - Akoon Baeed Ana
The Jordanian alternative rock act surprised their fans with their latest track, Akoon Baeed Ana. Directed by Abdulrahman Saeed, the video takes us on a psychedelic trip brought to life by creative editing techniques such as bright bursts of colour, superimposed footage, and fast-paced rhythmic cuts which tell the story of our hooded protagonist's journey across a baron wasteland.
Blu Fiefer - Khatar
In her self-directed video, we see Blue Fiefer surrounded by candles in a bathtub full of blood and a knife through her heart. The video maintains a haunted, gothic quality as Blu Fiefer holds a human heart in one hand and a snake in the other. Despite the knife cutting through her body, the video ends with Blu Fiefer on her feet, looking boldly into the camera as she and the serpent become one in what feels like a mythical transformation.
Dana Durr X Dakn - Zy Nar
Taking on the role of director, Dana Durr walks us through an intimate, smokey tour of her home for the track Zy Nar, produced by Ramallah-based beloved producer Dakn. The video gives off a vibe of confidence and mystery which pairs well with the dark and syrupy instrumental.
Donia Wael X El Waili - Bekya
Directed by Omar Mano and Hagar Badwy, the video for Donia Wael and El Waili's 'Bekya' perfectly encapsulates the melancholic themes in the track by presenting Wael on the streets of Cairo through a brooding lens of self-reflection.

Draganov - Chichi
Moroccan rapper and producer Draganov takes us on an emotional journey in the video for Chichi, directed by Jamal Hakkou, where we are met with shots of a family circling around an elderly man in the middle. As the video progresses, we see Draganov performing to camera in between the shots of the family, and we are eventually met with a transition that takes us into the past, as we see camcorder footage of the same family from days gone by. The sincerity of the shots comes through with the actors' facial expressions and body language, and the melancholy of the music amplifies the nostalgic feel of shots, making it hard not to get worked up watching this video.
ElGrandeToto - Silhouette
With music by Voluptyk, ElGrandeToto delivers a heartfelt music video, produced by Black Vision and Black Anouar, where he tackles themes of substance abuse, as a fictionalised version of the rapper is questioned in the video, in a press release about the topic. The video ends on a hopeful black screen that reads the text "... Let's not break the links, but build the routing of a memorable artistic history.
Felukah - Desert Woman
In this video, directed by Felukah and Abi Chavez, we see the artist and her family members performing in a deserted field. The unity and strong ties between the cast, paired with the visual direction, give off a sense of pride, particularly in the shots where Felukah and her cousins are comfortably walking through the desolate setting, reinforcing the themes of family and community that are present in this release.
Idreesi - El Genaina
Directed by Idreesi himself, and produced by Jordanian content creators Bil3aks, the music video for El Genaina, with music production by Zaid Kreshan, takes us to a dimly lit bar with Idreesi giving a lively performance with no one there to watch. Cinematographer Abedeljabbar Zaytoon's camera work captures every subtle expression on Idreesi's face while performing, making it seem like the whole video is centred around the performance. However, as the track climaxes, a traditional belly dancer emerges out of thin air to deliver a fiery performance over the track's cathartic solo, played by Basel Naouri.
Kid Pharaoh - British Museum
In his self-directed video, Sydney-based Egyptian rapper Kid Pharaoh imagines a heist at the British Museum, challenging his position as an Egyptian within British spaces in light of decades of colonial history. He does this by candidly speaking on the hoarding of Egyptian treasures in the museum's halls and satirically bringing traditional elements into the museum, such as an Egyptian uncle making an appearance while smoking shisha and demanding a cup of tea from a clearly perplexed flight attendant.
Though the track has provoked mixed responses, the comments online suggest that Pharaoh's audience has come to the consensus that the message behind the music video reflects their own opinions on the topic. And while Egypt's renowned archaeologist Zahi Hawass has recently taken it upon himself to bring the Rosetta Stone back home, Kid Pharaoh's 'British Museum' acts as a Gen-Z-styled petition, reclaiming Egyptian history with the confrontational video.
Lana Lubany - Clones
After finding a good deal of success through TikTok virality, Lana Lubany gave us a nostalgic music video that took us back to the early 2000's. Directed by Sahra Zadat, this video embraces fashion trends, hairstyles, and visual aesthetics of the early-aughties, even featuring some Britney-reminiscent-bubblegum in the artistically presented video.
Ma-Beyn - Masa2altesh
If her lyricism and flow weren't enough, Ma-Beyn's video for 'Masa2altesh' suggests that the artist has a vision that sets herself apart from many of her derivative peers in hip-hop. As part of one of the leading up-and-coming hip-hop collectives Ka2en, Ma-Beyn's work outside the group holds an equal bar. The track, produced by Lil Abad, stands alone as an original and momentous instrumental, but Ma'Beyn makes it fly with her flow and songwriting.
In the video, made in part with DOP and cinematographer Teymour Pourcines (Tuna Studios), we see Ma-Beyn in an opening shot, bored at a cafe. As the beat drops, we enter another scene that's driven by kaleidoscope images, only to find ourselves in a garden of Eden scene shortly after. The colors and all-female cast offer a riveting, fresh and satirical commentary on gender roles.
Marwan Pablo - Barbary
Marwan Pablo made yet another comeback with his track 'Barbary', produced by Hady Moamer, and video direction by Muhammed Ibrahim. The video shows us that Pablo is still on top of his game, as the rapper performs nonchalantly to camera in a futuristic setting that makes use of massive screens playing mesmerising visuals provided by Karim Saber and Omar Saltah.
Massar Egbari - Ba2eit Ghareeb
In Massar Egbari's latest video, directed by Zeina Aref, actors Nada Abadir and Youssef Benz take the spotlight with their otherworldly interpretive dance performance. Meanwhile, the band play their instruments in an eerie, dimly lit forrest in stylish costumes, provided by Alia Dessouki.
The video uses the stark contrast between the two main settings: the first is an outdoor, moonlit location in which a couch and television are placed in the middle of the woods. The second set looks as if it moves the same living room setup into a sunny apartment, and oscillation between the two helps to ground the melodramatic performance, striking outfits, and mysterious visual direction of the video.
Moayad - Theeb
Wearing his Arabic heritage on his sleeve, Saudi Arabian rapper Moayad shines in his music video for 'Theeb', directed by Chndy, with music production by Ntitled, released under MDLBEAST records. Directed by Chndy, the video sees Moayad in traditional Saudi attire, giving a commanding performance in which he showcases his natural charm and presence as an entertainer. The video takes place in the Arabian desert, showcasing the fauna and flora of the landscape, with shots that evoke a sense of community.
Moody Jones - Nightshifts
Directed/ animated by Justin Hackney and produced/ animated by Greg Pidcock, the AI generated music video for 'Nightshifts' delivers a surreal experience that makes use of an innovative cyber-punk art style.
The animators took to realdreams.io to generate the visuals. The AI system was trained to use various images of Jones, allowing the team to then "put him anywhere, doing anything" resulting in a stimulating mood piece that adds mystery and intrigue to the track.
Moscow - Boleka
Coming in on the charm-offensive, Moscow brings us a vibrant music video directed by 'BROKE GYPTIAN DIRECTOR' (lol) and Amr Muhammed. In the video, we see the rapper performing in a tastefully faded colour palette and grading by colourist Mahmoud Issam, which then takes us around the city, through the lens of DOP Ezz Hegazy.
Nemahsis - dollar signs
Palestinian-Canadian artist Nemahsis and London-based directing trio Crowns & Owls deliver a deeply personal music video for the track 'Dollar Signs'. The video greets us in a green apartment in which we see the artist taking centre stage. As the camera zooms out, we begin to see more of the environment around Nemahsis, as the patient instrumental of the track is complemented by the slow-and-steady camera movement. Eventually, it is revealed that the setting is actually a window to a shop in a busy street with pedestrians passing by without giving a care to the performance.
Nubi - Top 5
With a retro pixelated aesthetic, a cameo from Nesr El Scene's Ahmed Ehab (AKA 'Hobz'), and a dash of self-awareness, Nubi delivers a well-rounded music video with cinematography provided by Omar Barakat and animation by Marwanxo.
The video begins with a fictionalised version of Nubi entering a gaming cafe, hoping to be recognised and treated with high esteem due to his success as a rapper. However, the clerk at the desk, played by Ahmed Ehab, dashes those hopes - as he has no clue who Nubi is. After a short dispute, Nubi enters a game room with an old television and console setup, and as he begins to play, we are sucked into a video game world where a pixelated Nubi shows off his badass fighting skills.
R3d - Bi Balash
For 'Bi Balash', off of their latest EP produced by Al Nather, R3d take us through the streets of Palestine in the music video directed by Montaser Abu Alul. The trio perform in a fast paced sequence of shots, presented in BLTNM's signature visual aesthetic that blends between day-to-day life in Palestine, and more cathartic themes such as the burning building that the rappers perform in front of for this video.
Rozzma - NGM
In a visual style that is nearly as futuristic and experimental as his sonic identity, Egyptian artist Rozzma takes us on an abstract, 3-D animated, action-figuesque journey in his music video for 'NGM'. As Rozzma does not credit a director, but rather credits 3D animators who provided the assets used in the video, we are led to believe that Rozzma created this video on his own, as the artist and producer has previously displayed his self-reliance through his work, but we might be wrong though.
Safi - Omsan Meshagara
Multi-talented Egyptian content creator Safi takes us on holiday with 'Omsan Meshagara', produced by L5VAV. The music video, directed by Mahmoud Amjad, was filmed in Jeddah alongside Peace Cake collaborators Yaya Elsady and Hazem Ragheb. The plot of the video comically takes us through the production process, revealing that the crew spent their whole budget on a lavish retreat, shopping sprees, and the famed fast food chain Albaik, of course.
Snor - Kasseta
Consistently delivering stunning visuals, Snor has been raising the bar for music video production in his past releases. With music produced by Famillionaire & Khazzi, Snor continues his stream of surreal music videos with Kasseta, directed by Ayoub Badri. The luminous colour palette, trippy aesthetic choices and one-of-a-kind styling provided by costume designer Amal Benayad make this video an easy pick for our best-of-the-year list.
Tamtam - Insak
'Insak's' music video, directed by Chndy, shows Saudi Aarbian artist Tamtam gracefully performing to camera in a visual style that is simple and elegant, with styling provided by Latifa Bint Saad, and props and art production by Makzn 7. The Artist's performance is complemented by the strikingly gorgeous locations in which the video was filmed, as Tamtam gives off a calm and unalarmed sense of pride.
Wegz - Ezz El Arab
This year's World Cup saw monumental accomplishments for the Arab world, both in terms of the performance by teams like Morocco, and the artists contributing to the iconic World Cup soundtrack. Previously iconic music performances in the World Cup conjure names such as Shakira, Pitbull and Jennifer Lopez to mind.
We're hardpressed to think of a better person to take on this responsibility than the beloved Egyptian artist Wegz, and he aptly delivered both in the live performance and the video for 'Ezz El Arab'.
The music video was directed by Ali El Arabi, who also directed Wegz's, 'B3oda Ya Belady' from the highly acclaimed documentary 'Captains of Zaatari'. The video for 'Ezz El Arab' features Wegz in a variety of shots around Qatar, DJing to an adoring crowd of football fans, and performing to the camera in a cinematic portrayal of the tournament's festivities, All in all, Wegz and his team truly raised the bar for the official soundtrack of the 2026 World Cup.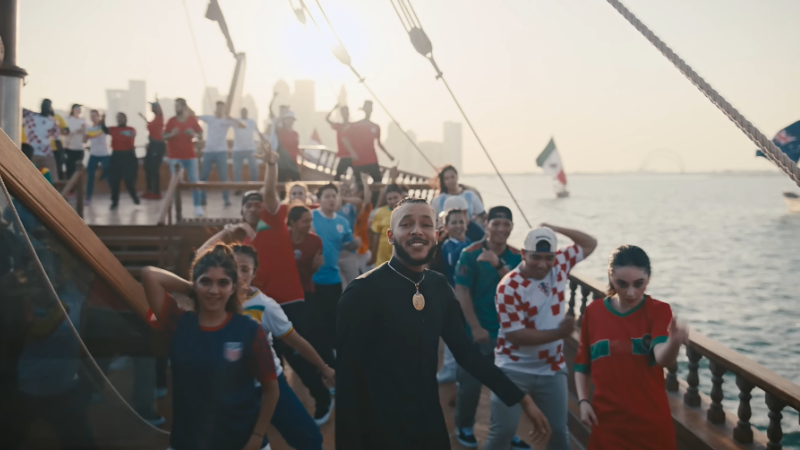 Wolf Fang MIDI - She's Gone
Having dropped just in time for Halloween, this music video, directed by Abdallah Shaarawi, takes us on a journey into the paranormal. In the video, the duo made up of J!n and SHUNUS give a dramatic performance full of creative visual effects, vampire fangs, and light-hearted gore in a style that screams B Movie.